Are you wondering what Devices are Compatible with ADT Command?
It can certainly be confusing when you are wanting to add devices to your ADT Command system to know what will be compatible and what will not be. We have made this page to help.
ADT Command System
There are 4 main panels available for the ADT Command System as shown to the left: The ADT Command 5″ Touchscreen, 7″ Touchscreen, LCD (coming soon), and Hybrid. The Two panels above are the most common panels used for the wireless command system providing an interactive home security system specially designed to not only provide real protection for you and your family. But also give you simple control and access with z-wave automation, bluetooth, and a panel camera.
The Hybrid Wired Keypad is ADT's basic keypad for the command line of products and is only hardwired. The LCD Touch-pad Panel works similar to the ADT Hybrid Panel with aesthetic appearance as well as features. The primary difference between the LCD and the Hybrid is that the Hybrid is wired, whereas the LCD is wireless.
Key Features
Remote Control: Secure and control smart devices like lights

,

thermostats

,

door locks as well as more remotely. (See charts below for compatible information)
Smart Home Automation: Create automations for different times of day and situations. Even use geo-fencing technology to trigger smart devices.
Voice Control Integration – with Alexa
2-Way Voice Control
Touchscreen or Touch-pad Keypad (Touchscreen has Help Videos)
Can I add Equipment to my ADT Command System Myself?
It really depends on who installed it. For monitored devices and for automation devices, the installer has to put the system into learn mode in order to add additional equipment to the system. However for video, if you already have video enabled on your account, you can add your video devices yourself. (see below for more details)
If you kept the technicians contact info, they might be able to put it in learn mode, however if you don't have that available you can contact us here. If we are unable to put your system in learn mode, ADT will need to send a technician out for a service call.
Adding Video Devices:
Your ADT Command system can handle up to 40 cameras. But before you add it to your ADT system, you have to add the camera to your Wi-Fi network. Follow these steps:
Log into the control.adt.com portal.
Select Video from the left navigation.
Select Settings from the available options.
Then select the appropriate camera from the list of devices.
Follow the onscreen instructions for your applicable device.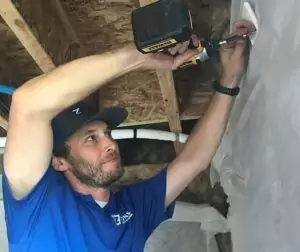 Compatible Panels/Keypads
Compatible Cameras
| Name | Description |
| --- | --- |
| ADT Command Doorbell | Is a wireless HD Doorbell Camera that connects to your ADT Command System. It delivers 720P HD Resolution to your smart phone, tablet, or ADT Portal so you can see who is at your door. |
| ADT Command Indoor HD Camera RC8326 | Works as a 720p wider angle camera lens, better color during low-light conditions, a Micro SD card slot, and video analytics to reduce false motion events. |
| ADT Command OC835-Outdoor Night HD Camera | Is a 720p is perfect if you want to see your driveway or backyard from your ADT Control app. It is a weatherproof, infrared, wifi camera much like the OC810, |
| ADT Command Dome Camera MDC835 | Is a WiFi Camera like the other ADT Command Cameras and does 720P video. |
| Skybell Video Doorbell | It is a Wi-Fi Doorbell camera that is a more slender 720P version of the Skybell HD 1080P. |
| Alarm.com Slim Line Doorbell Camera | Always know who is at the front door with the Alarm.com Slim Line Doorbell Camera. |
| Alarm.com Indoor Wireless IR Camera 1080p |  1080p HD video, infrared night vision and secure cloud recording make this Wi-Fi Video Camera from Alarm.com ideal for indoor video monitoring. |
| 2.1 Outdoor Wireless IP Camera | The 2.1 Outdoor Wireless IP Camera features 1080p HD video recording as well as excellent low-light performance. |
| Alarm.com 1080P Dome Camera | Optimized for indoor and outdoor video monitoring.  Features a discreet, vandal proof, compact design and outstanding 1080p HD quality video. |
| Alarm.com 1080P Bullet Camera | Measures 2.76″ × 6.1″ and is weather and waterproof as it is built to the IP67 rating standard. The camera features a 4mm, F1.6 lens. |
| Alarm.com Long Range Outdoor Bullet Camera | Ideal for clients seeking a strong visual deterrent. Additionally, this camera also gives you more options for your business customers as well as offers 1080p HD video. |
| ADT Indoor Camera Pro 1080P | ADT Indoor Camera Pro 1080P  is an indoor day/night camera with a 1080p HD resolution.  It has a 95-degree wide-angle camera lens, infrared illumination, better color during low-light conditions, a Micro SD card slot, and video analytics to reduce false motion events. |
| ADT Outdoor Camera Pro 1080P | The ADT Outdoor Camera Pro 1080P is perfect if you want to see your driveway or backyard from your ADT app. It works with both the Pulse and Control app. |
Compatible Sensors
| Name | Description |
| --- | --- |
| ADT Command Wireless Door Window Sensor | Introducing the new ADT Command Wireless Door Window Sensor, the first fully encrypted, bi-directional wireless door/window contact. |
| ADT Command Wireless Motion Detector | The ADT Command Wireless Motion Detector is a wireless passive infrared motion sensor which is Pet Immune up to 80 pounds. |
| ADT Command Mini Door Window Sensor | Supports ADT Command systems with Two-Way Wireless Technology, these devices deliver significant advantages. Including faster installation, easier troubleshooting, remote diagnostics and increased RMR. |
| ADT Command Shock Sensor | Works as an encrypted sensor with superior range specifically designed with multi level vibration detection with your ADT Command System. |
| ADT Command Occupancy Sensor | Works as an indoor motion used to detect the presence of a person to automatically control lights or temperature or ventilation systems with your system. |
| ADT Command Temperature Sensor | Works best for applications including bathrooms, laundry rooms, furnace rooms, basements and garages as well as protects temperature fluctuations. |
| ADT Command Image Sensor | Works as an image capturing motion alarm sensor. In addition, it uses night vision technology to capture images through all hours while also being rated with an IP65 Rating. |
| ADT Command Flood Detector | Is a water detection device ideal for computer rooms, document storage areas. Furthermore it also works for warehouses, sump pumps and basements. |
Compatible Lighting
| Name | Description |
| --- | --- |
| Smart Z-Wave Dimmable LED Light Bulb | Z-Wave Dimmable LED Light Bulb fully-dimmable instant-on LED screw-in light bulb that provides pleasant soft-white illumination equivalent to a 60-watt incandescent bulb. |
| ADT Smart Outlet | Can be used to control lighting as well as small appliances that are plugged into the bottom outlet. |
| ADT Plug-In On/Off Appliance Module | Used to control appliances or lights on the outside of your home. It's also a definite must for someone wanting to control Christmas or other Holiday lighting. |
| ADT In-wall On/Off Light Switch | The on/off switch replaces your current light switch, uses your existing wiring, and provides Z-Wave wireless and in-wall control of overhead lighting. |
| ADT Plug-In Dimming Lamp Module |  Perfect to control any outdoor appliances or lighting, or as an outdoor repeater. Allows you the option to adjust mood lighting for all occasions within your home. |
| ADT In-Wall Dimmer Switch | This switch is pretty awesome because you can have lights dimmed to any level in a room from your light switch. It's also useful if you don't have florescent light bulbs. |
| ADT Z-Wave Lamp Module Dual Plug | The lighting control enables wireless control of on/off functions for standard table and floor lamps. Furthermore, it's compatible with incandescent, LED, Xenon, Halogen, fluorescent and compact fluorescent bulbs. |
| ADT Dual Lamp Module | Control two lamps or appliances. |