Qolsys Touchscreen System
The Qolsys Kit comes with everything needed to start with the most advanced security and home automation system on the planet. Additionally, it comes with 3 wireless door or window sensors and a wireless motion detector. In addition, it also has exciting new features like touchless disarming using Bluetooth and a built-in glass break detector.  Furthermore, enable them through powerful software that improves over time through regular software updates.
FEATURES:
Built-in LTE Cell Radio
Encrypted Wireless Sensors protect against hacking and they are still small unlike others
Built-in Router for a private network for wifi cameras to be more secure
Built-in Glassbreak Detector
Dual-Path connectivity – Cell as well as WiFi connection to the monitoring station and alarm.com
Zwave Plus – better connection to Lights, Locks, Thermostats, Garage Openers, and more
Bluetooth Disarming – You can disarm the system just by walking in the door and it detects your phone
Speakers – 4 forward facing speakers for streaming music and better sound (1 Watt Each)
Additionally, the award-winning IQ Panel 4 is a 7" HD touchscreen with a built-in 8MP camera and multiple wireless radios in a clean, elegant, modern user interface. The IQ Panel 4 connects to an entire ecosystem of smart devices, giving you control over your entire home.
While it is the world's best residential system, it is also now the world's best commercial system after an over-the-air software update.
Includes:
Qolsys IQ4 Keypad
1 Motion Detector
3 Door Window Sensors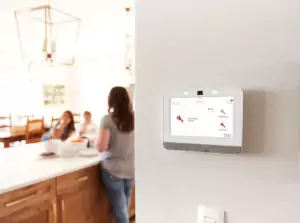 Get Your Free Quote Today
Fill out the form below and a home security specialist will contact you as soon as possible.
By clicking CALL ME I agree to be contacted by Zions Security Alarms even if I'm on a Do Not Call list. In addition, I consent to be called back at the phone number provided, including cellular. You are not required to provide this consent to make a purchase from us.