Description:
The Alarm.com Skybell HD Doorbell Camera can now let you see who is at your front door whether you are home or not and have a two-way audio conversation with them. Since it is part of the Alarm.com app you can disarm the system and unlock the door while talking to them. (assuming you have a smart deadbolt that is compatible.
1080P Video Quality
Two-Way Audio
See and talk via smartphone from anywhere
Control Alarm.com devices while talking to them
Once installed it becomes a smart home security camera, able to record and send you motion-detected or doorbell-activated clips. It can even send you clips when other things trigger it like when your garage door opens, etc… You could also use its motion to trigger your porch lights to turn on.
You can install the doorbell right where your two doorbell wires currently are. If your doorbell is on the side you can install a little wedge that it comes with to turn it a few degrees out.
It comes in two colors, silver and bronze.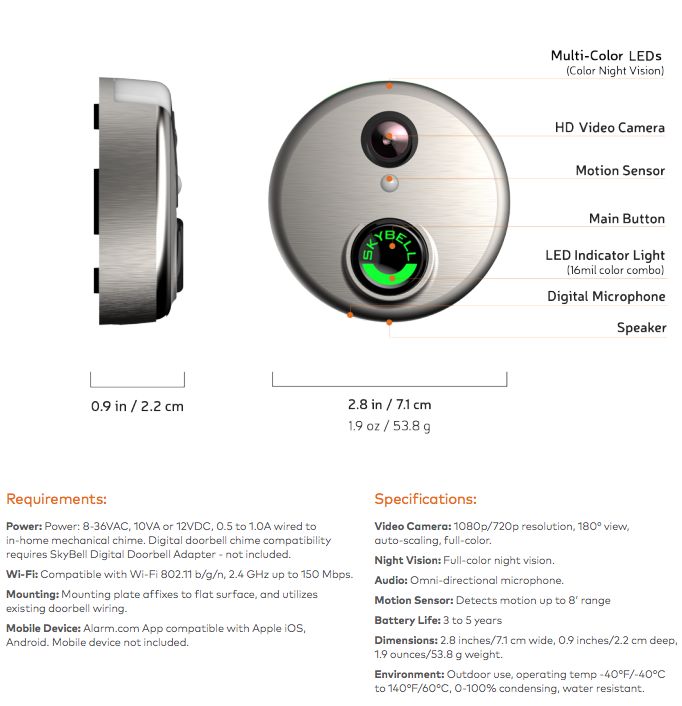 How to add the Alarm.com Skybell to your existing Alarm.com system
First, you will want to make sure the company that provides your monitoring service checks the "doorbell cameras" option under your service plan. If you do not already have any video cameras on your account; you will probably have an increase in your monthly rate of $5 or more. If you already have video services enabled, and if you have less than 4 cameras, you will be able to add it without any additional monthly cost. (But you will still need to ask your company to check the doorbell cameras box)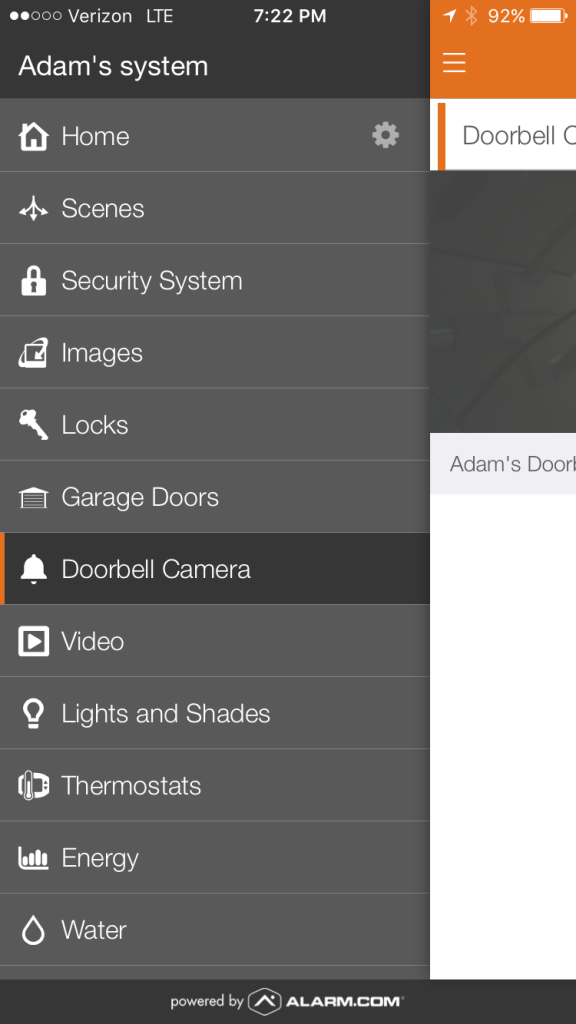 Once the option is enabled you should be able to see it under your menu in your app like the picture to the right
Now you just need to order and install the skybell doorbell camera. It is very easy to install. You just connect the two wires from your existing doorbell to your skybell doorbell. If you have a digital doorbell you might need an additional adapter or you might need to change your doorbell entirely for a new one. We have found two customers that have a Nicor  18888 Digital Doorbell Chime that is recessed and the best thing to do is to replace it with a $13 doorbell kit from Home Depot.
Once the doorbell is installed it will start flashing between green and red. Then it is ready to learn in. Follow the instructions after clicking on Doorbell camera from the Alarm.com menu on your app.
Please check out our YouTube Channel for more information.