Yale Touch Screen Lever Z-wave
Yale Touch Screen Lever with Z-wave is the next generation of electronic residential locks from Yale. Additionally, they provide some versatility and convenient access. With a touchscreen, the Yale Touchscreen Lever with Z-wave brings 'smartphone chic' to residential home security. Yale Real Living also integrates seamlessly into a wide range of Z-Wave home control and security systems, making everyday living easier and safer.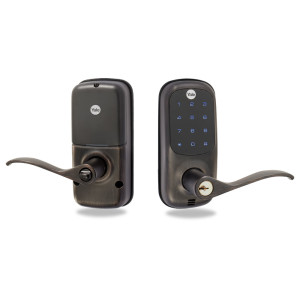 From the Manufacturer
The Touch Screen Lever specifications for installation include:
Door Specs: 2 1/8″ Face Bore, 1″ Edge Bore, 2 3/8″ Back set;
Includes an Adjustable Latch: 2 3/8″,
Latch for Front: RC (Round Corner);
Strike: 2 1/4″ Full Lip,
Strike Front: RC (Round Corner), and is also able be installed on doors with a Door Thickness of: 1 3/8″ to 1 3/4″.
Yale Locks & Hardware provides a Warranty on Finish and Electronics:
Warranty Specifications:
Finish: Lifetime Limited Warranty;
Mechanical: Lifetime Limited Warranty;
Electronic: One Year Warranty
Easy to Use
Installing and mounting system also is a breeze
Programing is fairly easy
Stand-alone illuminated Push Button Keypad Locking Device
Also, For Use On All Standard Interior and Exterior Doors
250 Users with Z-Wave wireless
Touchscreen -Tri-lingual.
Additionally, it is available with languages in English, Spanish, and also French.
This part has been discontinued. If you need something similar, please check out the Yale Touchscreen Lever Door Lock