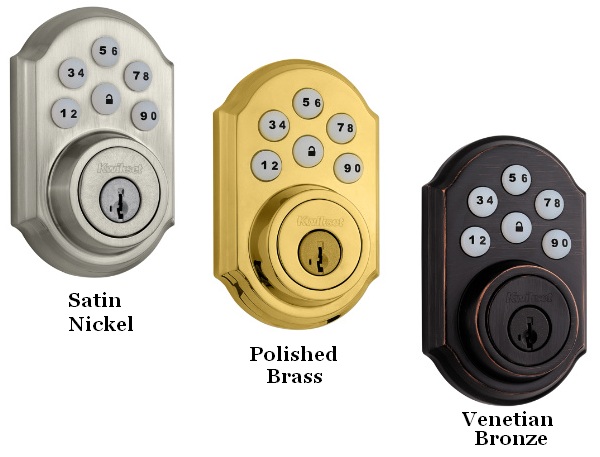 Discontinued. This is the ADT Pulse Deadbolt made by Kwikset Smartcode Deadbolt Model 99100. It is also the most basic and inexpensive ADT Pulse Deadbolt. With Z-Wave and ADT Pulse Compatibility the Smartcode Deadbolt Model 99100, will fit in great with almost any system.
Kwikset also makes other deadbolts that are superior to this original model.  Newer models are also quieter, smaller, and more secure. See the list of approved ADT Devices to learn more or see below.
The ADT Pulse Kwikset 99100 is a Z-wave powered device. You must have a good Z-Wave signal reaching the door you want to install it on.
If you have the option to add this deadbolt when you click on manage devices under system and then click on "Lights, Thermostats, and more". You should see the Kwikset SmartCode Deadbolt 99100. (Tip: When you install this deadbolt you will need to learn it in while it is right next to the ADT Pulse Gateway, then you can install in the desired location.)
You must already have a deadbolt that can open and close easily without having to push or pull on the door. Also, if you need to assist the deadbolt in locking you will need to adjust your strike plate so that the deadbolt can lock and unlock freely without any assistance.
This deadbolt comes in Bronze, Brass, or Nickel.
Easily enrolls to your ADT Pulses Wireless Network
UL 10C Certified Approved for 20 Minute Fire Rating Certification
Illuminated Keypad for low light use
Lock or Unlock the deadbolt by using the keypad or any web-enabled device
The motorized lock enables automatic and remote control operation
Set up automation based on lock status
Receive text or email alerts when the lock is locked or unlocked
Full128-Bit Security Encryption for increased wireless security
Uses 4 user-replaceable AA alkaline batteries, eliminating the need for any wiring
Also. available in three colors: Satin Nickel, Venetian Bronze, and Polished Brass
Compare the 99100 on the left with the new 914 model on the right.
Other Kwikset Models Available are
Contemporary Deadbolt
99140 Premium Deadbolt
916 Touchscreen Deadbolt
99120 Levers
If you are wanting to get this in one business day add 1 Day Shipping to your order.
Other ADT Pulse Products you might want to add to get free shipping (orders over $200)