ADT Pulse Overview for Cost and Features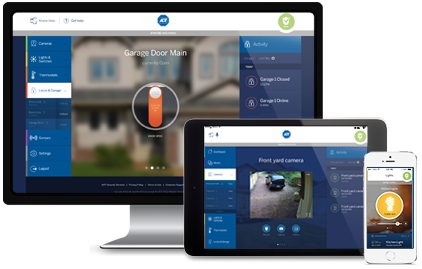 Many people are hearing about ADT Pulse and are wanting to know what it is and what the costs are. Zions Security Alarms is an ADT Authorized Dealer dedicated to helping you know more about ADT Pulse Interactive.
What is ADT Pulse?
ADT Pulse is the the service offered by ADT Monitoring that allows you to be in control of your home wherever you are. As long as you have internet access on a device you can arm and disarm your home security system using ADT Pulse.
How does ADT Pulse work?
The way ADT Pulse works is by using your cellular and internet connection to communicate with your alarm system and home automation set up. You can download an app for your smart phone or tablet or you can use the web portal on a computer. ADT Pulse uses Z-wave and WiFi to communicate with the devices.
How much does ADT Pulse Cost?
There are three levels of ADT Pulse monitoring. The monthly cost is $49.99 for basic, $53.99 for two way voice, and $59.99 a month for advanced (Cameras, lights, thermostats, and door locks). The upfront costs start between $99 and $299 but can increase if you add more protection, home automation devices, or cameras.
ADT Pulse

ADT Pulse Basic Equipment

3 Door Sensors
1 Motion Detector
1 Keychain Remote
Cell Radio
Keypad
Siren
Battery Backup
Yard Sign
Decals

ADT Pulse w/ 2 Way

ADT Pulse with Two Way Voice Equipment

3 Door Sensors
1 Motion Detector
1 Keychain Remote
Cell Radio
Keypad
Siren
Battery Backup
Yard Sign
Decals

ADT Pulse Premier

ADT Pulse Premier Equipment

3 Door Sensors
1 Motion Detector
1 Keychain Remote
Cell Radio
Keypad
ADT Pulse iHub
Siren
Battery Backup
Yard Sign
Decals

Starting Install Cost

$99

$99

$99

Monthy Rate

Monthly Rate

Other options available starting at $36.99/mo
that require a landline, but these are the most popular.
Go here for more monitoring options.

$49.99

$53.99

$59.99

Mobile Access

Mobile Access Features

With mobile access through ADT Pulse℠,
you control your home from the palm of your hand.
Use your smartphone to arm or disarm your system and
receive alerts through the app to notify you of intrusion,
fire, or flood. You can use as many devices as you would
like and even tablets or computers.

Text Alerts

Text Alert Features

Through ADT Pulse℠, you could receive alerts for a variety of events. Like:

Intrusion
Fire
Carbon Monoxide
Temperature
Flood

You can also set custom notifications to know when a door is opened or if there is motion or not motion.
Examples like your child arrives home from school, there is no motion at your mothers home,
or when a child opens a cupboard.

Two Way Voice

2-Way Audio Verification

With two way voice the ADT Monitoring Station is able to talk and listen into the home to get an audio verification immediately. This audio verification can increase response times and reduce potential false alarm fees from the police department.

–

*

Video Surveillance

ADT Pulse Security Cameras

You can have up to 10 wireless cameras added to your ADT Pulse system. These cameras can record unlimited 30 second clips for one month when there is motion or another trigger. You can view live video to check on your home or business. There are indoor and outdoor cameras available.

–

–

Home Automation

Home Automation Features – Make your Home a Smart Home

Smart Door Locks
Smart Thermostats
Smart Lights
Scenes
Scheudles
Alerts

–

–
(*$60.99 with two way voice)
What is the equipment that comes with ADT Pulse?
Below are some of the options for ADT Pulse Equipment and the costs. If you have an existing system, you can add ADT Pulse by replacing your panel with the latest version and then by adding the ADT iHub/Gateway. Once you have the iHub you can choose any of the ADT Pulse compatible equipment. Check out our blog for articles on ADT Pulse for more information. Here is the complete list of ADT Pulse Approved Devices.
Gateway/ iHub 

The ADT Pulse Gateway or Ihub is needed if you want to have home automation or video surveillance. (unless you have the new TS Panel below)

TSSC Panel 

The TSSC Panel Base Station is the new and best way to go if you want to have home automation or video surveillance. It connects directly to your router.

TSSC Keypad 

The TSSC Keypad is Wireless and typically sits on a counter or desktop but a wall mount is available.

Ring Doorbell 

The video doorbell that you can use to talk and see who is at your door. Learn more here.

Thermostat (Z-wave) $150

This thermostat can be used to change the temperature in your home from the internet or your smart phone. It replaces the existing thermostat you have in the home. Learn more here.

Lamp Module $59

This can be used with ADT Pulse to control any lamp or appliance that is plugged in. It also is the z-wave repeater for the system. You can get it to do on/off or get the dimmer version. Buy dimmer here Buy Appliance here

Deadbolt $175 Buy now

The Z-Wave deadbolt enables the door lock to wirelessly communicate with the ADT iHub. The lock allows the user to remotely check the door lock status, lock or unlock the door and receive text or email messages. Available in brass and oil rubbed bronze also. Click here to see the other colors and learn more

Touchscreen Deadbolts

If you are looking for the nicest looking and most quiet deadbolts for your ADT Pulse System, you will want to add these Touchscreen Deadbolts. Go here to purchase or for more details.

Garage Door Control

Control your garage door with ADT Pulse using the ADT Pulse Garage Door Control made by Linear.  Go here to purchase or for more info.

Light Switch Wall Mount Dimmer $69 Buy one here

These light switches can be installed in your home or business in place of existing switches. With the z-wave compatibility they can be controlled from anywhere. On/Off Switches also available for $59 here.

Touchscreen Keypad $299/each Buy one here

This is the Wi-Fi interactive touchscreen from ADT Pulse. It is made by Netgear. You can control the alarm system, adjust lighting, view live video from security cameras and more.

Indoor Wireless Camera $150/each Buy Now

This is the Indoor Wireless Camera. It has LEDs built in to provide night viewing with infrared. It replaces the RC8021 Camera and the iCamera1000.

Outdoor Wireless HD Camera Buy Now

This is the Outdoor Wifi Camera that is compatible with ADT Pulse. It has LEDs for night viewing and is weather resistant. Learn more about it by clicking here.

Analog Encoder $150 Buy Now

This is an analog to digital converter that can be installed to any analog camera so that that camera can be viewed on the ADT Pulse system. It turns any analog camera into an ADT Pulse Camera.

Wi-Fi Range Extender $150

This is a wifi extender in the event that you want to install an ADT Pulse Camera farther away from the iHub. Made by Netgear. You can buy one here.
More Information on ADT Pulse?
ADT Pulse is much more than the ability to control your home security system, it is also the ability to control your home. It has home automation that includes climate (change thermostat temperatures) control, light control, video cameras, and even garage door control and deadbolt locks. Its affordable, customizable and very easy to use. ADT Pulse is not only giving you the ability to control a light, door lock, etc.. individually, its greatest asset is that everything can work together automatically. For example, if there is a fire in your home your lights can automatically turn on, the thermostat can stop (so that it does not feed the fire more oxygen), and the door can unlock (for quick access for fire department or exit). Another example is when you arm your system it can automatically change the thermostat to save you money on expensive energy costs, turn lights off to save you more money, and make sure the doors are locked. You can even receive severe weather alerts from your ADT Pulse system.
ADT Pulse controls automation devices with Z-Wave
ADT Pulse is able to turn into home automation with a new technology called Z-Wave. You can add Z-wave devices like locks, thermostats, and lights and control them from the ADT Pulse Ihub. These z-wave devices use a mesh network that gets larger the more devices you install. The ADT Pulse Cameras work off of Wi-Fi technology also communicating back to the ADT Pulse iHub.
Example Estimate of ADT Pulse
If a homeowner wanted ADT Pulse Premier they would start with $299 install and $59.99/mo. If they had 15 doors and windows they wanted to protect they would pay for the 13 additional doors and windows at $60 each($780). Three of them come included already with the $299. Then lets say they wanted to add an indoor camera ($150) and a Deadbolt ($199). Their total install cost would be $1428. Costs of additional equipment can be found here on our equipment price list or above on the ADT Pulse Parts Price List.
What if I am an existing ADT customer and want ADT Pulse?
If you are an existing customer of ADT and you want to upgrade it is recommended that you call ADT and have them upgrade your system. You are then welcome to return here to purchase additional components that you want to add to your ADT Pulse system.