ADT Pulse Dome Camera MDC835
$250.00
This Product is no longer available. This ADT Outdoor Dome Camera 1080p is what we recommend.
ADT Pulse Outdoor Dome Camera in 1MP 720P. Now you can add this outside your home under your eve or inside your home on the ceiling. Easy to learn in and similar quality as the OC835. Best if you want a more vandal-proof design that people can't mess with as easily. You may also want to add wire and the junction box to hide the wires and the wall mount bracket so you can mount them to any wall.
Out of stock
Description
This camera is out of stock and you can get the new camera here
The ADT Pulse Dome Camera MDC835 is a WiFi Camera like the other ADT Pulse Cameras and does 720P video. Easily add this Outdoor HD Mini Dome Camera to your ADT Pulse system if you have less than 10 cameras and if you have at least one camera already. It does not come with a wire so you will want to get one here. You will also likely want to add the junction box so you can hide the wires and possibly the wall mount bracket if you want to put it on a wall.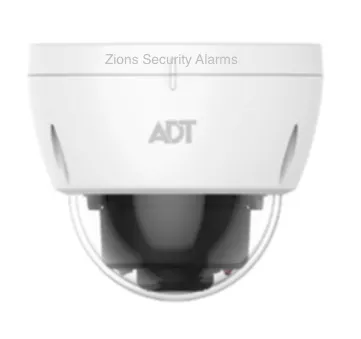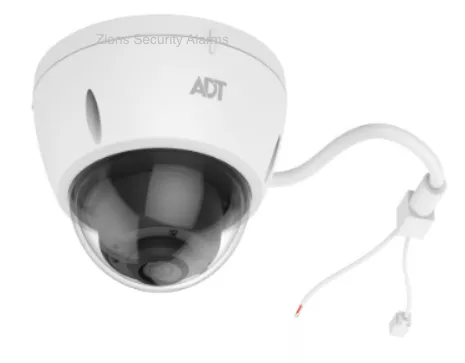 The MDC835 is an outdoor day/night mini dome camera with 720p HD resolution for use with ADT Pulse®. This HD camera requires only a power source and a wireless connection to the ADT Pulse gateway. The MDC835 supports Wi-Fi Protected Setup (WPS) with PIN mode, which can simplify the process of wirelessly connecting the HD camera to the Pulse network with the push of a button. (the Y cable that is attached to the camera has two wires for power and a cat5 connection if you want to install the camera farther away than the wifi can reach. The power cable that comes off of the Y cable will attach to second wire that you will want to add also here and then cut it to length)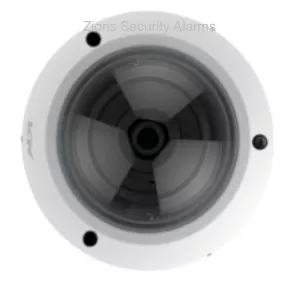 The MDC835 features built-in infrared LEDs that enable functionality even in the dark and an IP66 water- resistance rating, making it a true outdoor camera.
Just like the other 720P ADT Pulse Wifi Cameras this one will not be compatible with the old white ihub but it is compatible with the cloud link, netgear gateway, or the TS Base station.
ADT Pulse Dome Camera MDC835 Features
Weatherproof IP66
75° Viewing Angle
Built in heater ensures operation in extreme cold conditions
Infrared with 2 LEDs for up to 16ft viewing range at night
720P HD Video (1280×720)
WPS easy set up
Wired or Wireless Connection options just in case the wifi is too far away
Specifications for the ADT Pulse Outdoor HD Mini Dome Camera MDC835
Dimensions – 4.33″ x 3.62″
Package Contents – Camera, Screw Terminal Power Adapter, Mounting Hardware, Terminal Block, Hex Key, Mounting Template, Installation Guide
Connectors – Internal Micro SD card slot, external split-wire Ethernet Port / DC Flying Lead
Night Vision – 2 IR LEDs, range 16ft
Motion Detection Range – 35ft
Operating Temperature – Range -40°F to 122°F

Additional Items you may want to add
50′ Wire to add length to the OC835ADT – $25
Ring Doorbell Cameras – $249
HD Touchscreen Keypad $299
Other Outdoor ADT Pulse Camera $250
Indoor HD Camera $199
ADT Pulse Indoor Camera $150
Solar Yard Sign Light $5
Lighting Controls for ADT Pulse Starting at $59
Deadbolts for ADT Pulse starting at $199
Thermostat for ADT Pulse $150
Reviews (1)