Sale
ADT Pulse Garage Door Controller – Linear Garage Door Remote Controller GD00Z-2
Unfortunately, this product is Out of Stock. You can check out this ADT Control Garage Door Controller.
Control your garage door with ADT Pulse by adding this to your Garage ceiling or wall. Easy to add to your ADT Pulse system if you have automation enabled already. Once enrolled you just need to connect the two wires to your garage door opener.
Out of stock
Description
ADT Pulse Garage Door Controller – Linear Garage Door Remote Controller GD00Z-2
These are available to ship now and are on sale for $169. Get yours today and start controlling your garage door from ADT Pulse! Also, if you want to see how to install them or how they look installed, read the blog post here. If you want to know if you can add it to your Pulse, go on the ADT Pulse portal under "manage devices" and "lights, thermostats, and more" and look for the "Linear Garage Door Remote Controller (GD00Z-2)". (Yes, it has to be the GD00Z2; the GD00Z4, or any other version, won't work with ADT Pulse). Tilt Sensor available here.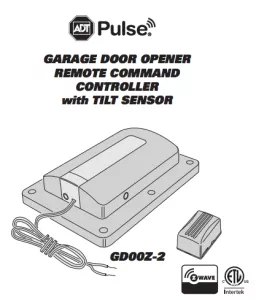 Information about the ADT Pulse Garage Door Opener
The Linear GD00Z Garage Door Remote Controller Accessory is compatible with virtually any automatic garage door opener connected to a sectional garage door. Installers only need to 'pair' the unit into the [ADT Pulse] Gateway, mount the unit, connect two wires and plug it in. It is just that easy to have a complete system that will open or close the garage door remotely through [ADT Pulse].
Providing both audible and visual warnings prior to door movement, the GD00Z meets UL 325-2010 safety requirements. These built-in measures (in addition to the safety features that come with the garage door opener) make this a safe way to remotely open / close a garage door.
The Z-Wave Garage Door Remote Controller Accessory integrates with other ADT Pulse Z-Wave enabled products, and can also act as a wireless Z-wave repeater to ensure that commands intended for another device in the network are received (useful when a device would otherwise be out of radio range).
Our take on the ADT Pulse Garage Door Opener
This is a very easy product to add to an ADT Pulse system. If you can see it on the drop down when you log into the ADT Pulse portal (then click on System, manage devices), then you can add it. I bet this could be installed within 5-15 minutes.  I added this as soon as it was available and it was very easy to add.
The description from Linear clearly informs us that there's a light and a noise of some sort when the door is closing to give warnings. These are safety requirements for the UL listing.
Like all other z-wave devices that are connected to wired power, the ADT Pulse Garage Door Controller will serve as a repeater in the mesh network so that other z-wave devices further away will be able to connect to ADT Pulse as well.
Specifications
Power: 120VAC, 50/60 Hz
Garage door position sensor frequency: 345 MHz
Z-Wave Frequency: 908.42 MHz
Range: Up to 100 feet between the wireless controller and/or the closest Z-Wave receiver module
Network inclusion
Scene: Command Class
Security compatible
Certifications
Included Accessories
Power supply 120VAC / 60Hz to 12VDC
Garage Door Controller (mounted to ceiling usually)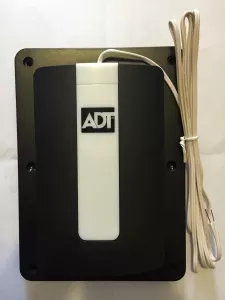 Other ADT Pulse products:
Please check out our
YouTube
Channel for more information.
Reviews (1)