This product is no longer available. This ADT Outdoor Camera Pro 1080P is compatible and a great replacement.
ADT Pulse Outdoor Day/Night HD Camera
The ADT Pulse OC835-ADT Outdoor Night HD Camera is perfect if you want to see your driveway or backyard from your ADT Pulse app.
It is a weatherproof, infrared, wifi camera much like the OC810, but this one will have 720P HD Quality Video! Unlike the RC8325 the OC835ADT has replaced the OC810ADT.
The OC835-ADT only requires a power source and a wireless (WiFi) connection to the ADT Pulse Gateway or ADT Total Security (TS) base station. The OC835-ADT supports Wi-Fi Protected Setup (WPS) with PIN mode. This makes it super easy to add without even needing to connect the camera to the Gateway/Base Station, you just push the button on the back. (But you need to have either the TS Base station or the black Netgear Gateway, it will not work with the old white iHub.) It is viewable on the new HSS301 Color Touchscreen Keypad and will not work on older color touchscreen keypads. (like the HSS101 or the old GE one)
The OC835-ADT features built-in infrared LEDs enabling it to see in the dark and it has an IP66 water-resistance rating.
Watch a sample video of the ADT Pulse OC835-ADT Outdoor Night HD Camera here.
You can set these cameras to record motion or other triggers. They can usually only record one 30 second clip every 5 minutes. If you want longer recordings you should talk to us about getting a Network Video Recorder and IP Cameras.
It comes with a wire that is around 6-10 feet long but if you want to power the camera inside the house like most do you will need to add additional wire to it. I recommend a 50ft piece that you can get here and 2 of these wire connectors to crimp on the wires.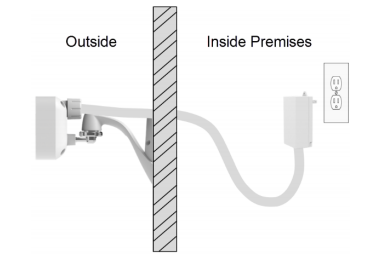 Features of the OC835-ADT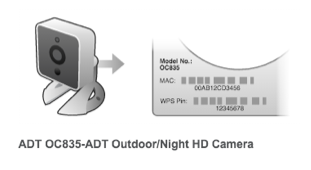 Delivers Sharp 720P HD (1280×720) Video Quality
IP66 Water Resistance Rating
Temperature rated for -40°F to 122°F in outdoor use
Built-in Infrared LEDs for Night and Low Light Environments
95° viewing angle
Simplified Wireless Pulse Enrollment with WPS button and PIN
Mounting Stand and Hardware included

Additional Items you may want to add (shipping is free when order is over $200)