This Product is no longer available. This ADT Pulse Indoor HD Camera RC8326 is compatible and a great replacement.
ADT Pulse Camera 8025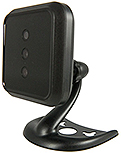 This was the standard definition wireless indoor camera that ADT offers for ADT Pulse. Furthermore, you can have up to 10 cameras in total. Therefore, you are able to add quite a few of these for added security and control. Originally it was replaced with the HD 720P version of this camera the RC8325, but that has also been replaced with the RC8326.
The RC8025B-ADT Wireless Day/Night Camera has an Integrated Microcomputer and a high-quality digital Image Sensor, enabling it to display high quality. Also, enabling live streaming video to your web or mobile client over an 802.11n Wireless LAN.
In addition, The ADT Pulse Camera 8025 has these features:
Standalone Design: The ADT Pulse Camera 8025 is a standalone device that
requires a power source and a wireless connection to the ADT Pulse
gateway.
Triple Video Support: The wireless camera supports H.264 Baseline,
MPEG-4 SP and MJPEG video compression.
Day/Night Switch: With the automatic day/night switching feature, the wireless camera is able to view and record crisper images in the dark within
a 5-meter area.
Standard Compliance: The ADT Pulse Camera 8025 complies with the
IEEE802.11n (DSSS) specifications for Wireless LANs.
Supports 802.11n Wireless Stations: The 802.11n Draft standard
provides for backward compatibility with the 802.11g wireless network.
Security Support: Full WEP (64/128 Bit), WPA and WPA2 Personal
standards are supported on the Wireless interface allowing advanced
encryption of wireless data.

Package Contents
1. RC8025B-ADT Wireless Day/Night Camera
2. Power Adapter
3. Ethernet Cable
4. Stand
5. Installation Guide
Additional Items you may want to add (shipping is free when order is over $200)
Also, check out the Installation Guide Here for the ADT Pulse Camera 8025!
Additionally, Read our Reviews here
Finally, if you want to get this in only one day add Next Business Day Shipping.