Siamese Camera Wire Analog HD-TVI Compatible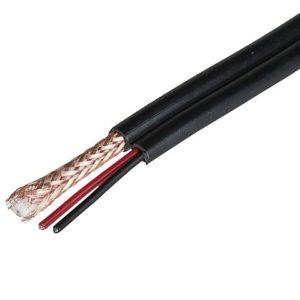 This Siamese Camera Wire comprises of both an RG59 Cable (used for video) and a 18/2 power wire (see picture above). This is what you need to wire your hard-wired camera to your HD-TVI DVR.  You can find a list of our compatible HD-TVI cameras here.
It comes in 100 ft, 250 ft and 500 ft. quantities. Because all cameras use plugs, you need attach a Male Pigtail and a BNC Twist On Connector  onto your wire to ensure a successful attachment to your camera. We sell Siamese Wires with Pre-Made Adapters, which you can plug right in to your camera without extra hassle. You may also want to look at our Wire Strippers.
You can view our other wiring products on this page.