Description of BNC Twist On Connector:
The BNC Twist On Connector is the easiest way to put a BNC connection on any siamese wire. You just strip back the wire so it looks like the diagram below and then twist on the BNC Connector.
Trim the Siamese (RG59) cable or Cat5E Patch Cable cleanly trying to match the dimensions shown.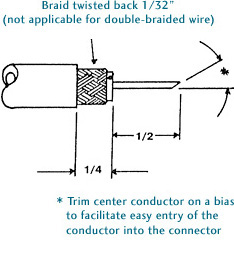 Twist the braid in a clockwise direction to pull it back slightly away from the edge and also to make sure none of the braid is touching the center wire.
Insert the center conductor into the guide hole on the back of the Connector.  Then twist until it is securely fastened.