Description of Premade Siamese Cable – Coax/power – 100ft Black:
Premade Siamese Cable – Coax/power – 100ft Black that has the bnc and power adapters included for convenience. It is the color black but we do also carry this in white.
This wire is used for CCTV Security Camera installation where analog cameras are installed. It has power and coax (video) cables in one.
The cable features a black color, offering a discreet and professional appearance when installed. The black jacket blends well with various environments, making it suitable for both indoor and outdoor installations.
With the coaxial cable, this premade Siamese cable supports the transmission of video signals from the camera to the recording or monitoring equipment. The coaxial portion of the cable is commonly used for carrying high-quality video signals with minimal signal loss.
Additionally, the power cable within the Siamese cable allows for the simultaneous transmission of power to the connected cameras. This eliminates the need for separate power cables, simplifying installation and reducing cable clutter.
The premade Siamese cable comes with connectors already attached, ensuring a secure and reliable connection between the cameras and the recording or monitoring equipment. It is important to verify that the connectors are compatible with your specific CCTV or security camera system.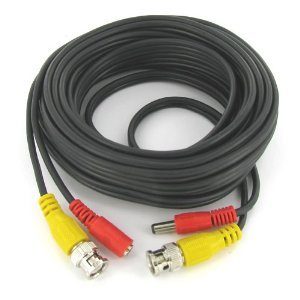 Features of Premade Siamese Cable – Coax and power:
All-in-one video and power cable

Easy to plug and start fast.

Two 22 AWG stranded power wires.

RG-59U coax along with 20 AWG center conductor as well as 95% Braiding Shield
Other wires and cables are also available here.
Please check out our
YouTube
Channel for more information.