This 4 Channel HD-TVI DVR comes with real-time live view and record.  You can connect up to 4 HD-TVI or Analog cameras and one IP Camera to it.
Many people decide to add this to their ADT Pulse system after they have cameras and encoders but no DVR and they decide they want better longer recording. It's also a popular replacement for the old ADT DVRs like the A-ADT4HS2. Many people that have the old DVRs with analog cameras are looking to upgrade to HD and the best place to start is with the DVR.
The 2TB hard drive will usually last 2-4 weeks of recordings with 4 cameras depending on how often they are recording. Most have them set to record on motion and they record closer to a month usually.
Additionally, you can view it remotely from smart phones and tablets, but you'll need to set it up with a static IP address or DDNS. It can also have 4 wired HD-VI cameras connected to it using siamese cables.
This DVR also has H.264 and dual stream compression with a Linux operating system. It records a resolution of up to 1080P with 15 frames per second and 720P with 30 frames per second, and it has 4 video inputs. It also has video output with HDMI and VGA.
But if you want to have more than 4 cameras connected, you'll want to look at the 8 channel DVR or the 16 channel DVR.
Features of the 4 Channel HD-TVI DVR:
4 Channel Digital Video Recorder
Analog & HD-TVI Video In: 4CH
IPC Input: 1CH 1080P@30fps
Video Output: VGA/HDMI up to 1080P
Playback Channel: 4CH
Audio In/Out: 1CH/1CH, RCA
Network: 10/100M
Storage: 1 SATA up to 6TB
USB: 2 USB 2.0
PTZ: 1 RS485
Support POS #: 1
Specifications of the 4 Channel HD-TVI DVR:
Video compression: H.264
HD-TVI video input: 4-ch
Video input interface: BNC (1.0 Vp-p, 75 Ω), PAL / NTSC self-adaptive
IP input: 1ch(1080p@30fps)
Audio compression: G.711u
Audio input: 1-ch, RCA (2.0 Vp-p, 1 kΩ)
Two-way audio input: 1-ch, RCA (2.0 Vp-p, 1 kΩ)
HDMI/VGA output: 1920 × 1080 / 60 Hz,1280 × 1024 / 60 Hz, 1280 × 720 / 60 Hz, 1024 × 768 / 60 Hz
Main stream frame rate: 1/16 fps ~ Real time frame rate
Sub-stream frame rate: 1/16 fps ~ Real time frame rate
Video bit rate: 32 Kbps-4 Mbps
Audio output: 1-ch, RCA (Linear, 1 kΩ)
Audio bit rate: 64 Kbps
Synchronous playback: 4-ch
Playback resolution: 1080P / 720P / VGA / WD1 / 4CIF / CIF / QVGA / QCIF
Remote connection: 128
Network protocols: TCP/IP, PPPoE, DHCP, DNS, DDNS, NTP, SADP, SMTP, SNMP, NFS, iSCSI, UPnP™, HTTPS
Network interface: 1:10M / 100M self-adaptive Ethernet interface
Serial interface: 1; standard RS-485 serial interface, half-duplex
USB port: 2 × USB2.0
Power supply: 12V DC
Power Consumption: ≤ 15 W
Working temperature: -10 °C~+55°C(14°F ~ 131 °F)
Working humidity: 10% ~ 90%
Dimension: 315 × 230 × 45 mm (12.4″ x 9.1″ x 1.8″)
Weight: ≤ 1.5 kg (3.3 lb)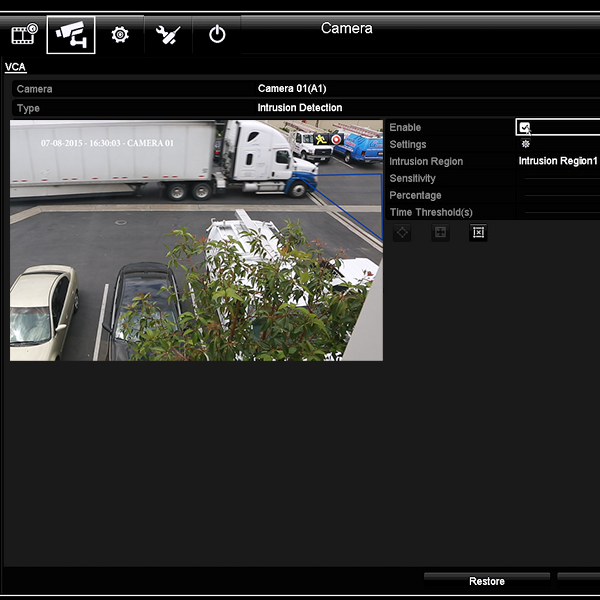 By Jacob Menke