The Lynx Plus Keypad/Panel is the all-In-one Honeywell Lynx panel with an LCD Screen, pushbuttons, and a built-in phone dialer (hard to find these days). There is also the Lynx Touch which is a touchscreen version.
If you have an older model Lynx that needs replacing, this is what you need. It will be compatible with all of your existing Honeywell wireless devices. But it would need to be programmed again and may require a technician's visit.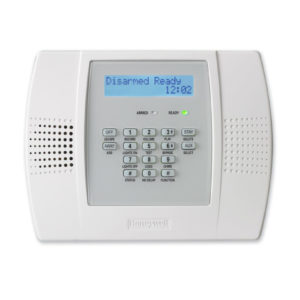 Additional Features:
The Lynx Plus Keypad/Panel is a good replacement if you want a smaller model than previous all-in-one systems with more features.
It is also a good idea if you have an older model and want to get rid of your landline phone. This new model can house the LTE cell radio inside of the keypad so there is not an external cellular communicator.
This model has an alpha description, two-way voice, built-in siren, backup battery, and more.
General Specifications
Full Contact ID reporting
Up to 40 wireless zones
2 x 16 Custom Alpha backlit display
Family message center with voice recording and playback
Single-button operation
Multiple default settings for easy programming
Full voice response
Remote downloading
Eight user codes
84 event log
Chime by zone
Quick exit
Real-time clock
Scheduling
Operating temperature: 32°F – 122°F (0°C – 50°C)
Rechargeable battery backup
RF enrollment speeds installation of wireless keys and transmitters
Physical Dimensions
Electrical
Voltage Input: 9VAC from plug-in 25VA transformer
Rechargeable Backup Battery:
– Six 1.2V/cell nickel-metal hydride rated at 1100 mA
– Optional 6V 3.1Ah delivering up to 24 hours of standby operational
Alarm Sounder:
– Bell = 6-14VDC, 120mA ma
Integrated Wireless Receiver
LYNX Plus receiver supports
– Up to 40 wireless zones
– Two-way wireless devices with status feedback:
– Diversity reception with two antennas
– Indications by zone and low battery indicator
Communications
Formats supported:
– ADEMCO Express: 10 characters/sec, DTMF (TouchTone) Data Tones, 1400/2300 Hz ACK, 1400 Hz KISSOFF
– ADEMCO Contact ID Reporting: 10 characters/sec., DTMF (TouchTone) Data Tones, 1400/2300 Hz ACK, 1400 Hz KISSOFF
– ADEMCO Low Speed: 10 pulses/sec, 1900 Hz Data Tone, 400 Hz ACK/KISSOFF
– Radionics/SESCOA: 20 pulses/sec, 1800 Hz Data Tone, 2300 Hz ACK/KISSOFF Can report 0-9, B-F
Line Seize: Double Pole
Ringer Equivalence: 0.6B
FCC Registration No.: 5GBUSA-25623-AL-E