Ring Doorbell
Ring Doorbell is a Wi-Fi enabled doorbell that allows you to see and speak with visitors at your door from anywhere. ADT has recently come out with their own ADT Video Doorbell that is better. The Ring Doorbell no longer works with ADT Pulse. This Ring Doorbell has been discontinued and replaced with Version 2. Each doorbell has an HD camera (720P) with night vision and smart motion detection. The Ring Pro new 1080p version is also available for only $50 more and is smaller but requires hardwired power.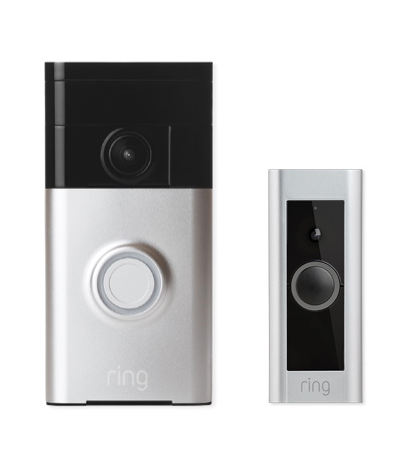 When someone walks in front of the doorbell or pushes the button, it will alert you and let you see and talk to them from anywhere. If you want to have the video clips recorded, you will need to set up a subscription with Ring that is only $3/month or $30/year.
you can't see live video from the camera whenever you want. You can only see that when there's motion or someone pushes the doorbell. The motion option also lets you set up zones (see image below of motion zones).
You can install it to replace your existing doorbell (and use the two wires that are there), or you can install it in addition to the existing doorbell. It's a quick and relatively easy install. It comes with a rechargeable battery that lasts around 3-6 months. (I just took mine off and charged it for most of the day and the original charge lasted 10 weeks. We'll see 10 weeks from now if I'm in the same boat or better.)
It comes in 4 different colors.