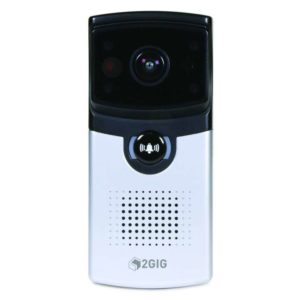 With the 2GIG Doorbell Camera, you can see who is there, and answer your door on your smartphone app.
2GIG Doorbell camera is the state-of-the-art video doorbell with a weather-proof and hardwired design! See or speak with anyone at your door securely… right from your smartphone app! Anywhere. Anytime. Even at night! Every 2GIG Doorbell comes with a smartphone app, available for multiple users and devices. See live video of who is at your door, and have a two-way conversation with your visitor or the delivery person even if you are not home.
Our 2GIG Doorbell camera is designed to last the life of your system. It is sealed and hard-wired, which makes it highly durable and low maintenance, an advantage that most other doorbell cameras cannot claim. Easy sale for professional installers!
With advanced motion detection, the 2GIG Doorbell can alert you to the presence of visitors before they even ring the doorbell. Improve your home security by knowing who is at, or has been at your door. You can also see who is at your door, in near-total darkness with our advanced Night Vision mode.
FEATURES
See who is at the door with free "My Doorbell" (iOS/Android) app
Multiple users and devices can receive alerts
Two-way conversation from a smartphone
Record snapshots and video to phone
Motion detection notification
A multitude of faceplates colors
Night vision, see in near-total darkness
The activity log of events/alerts
No monthly fees
Hardwired installation
Please check out our YouTube Channel for more information.