Easily splice wires together with this wire connector.
Furthermore, just insert the two wires in one end and then clamp down on the connector.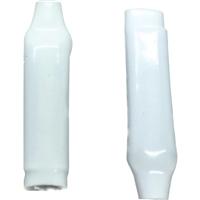 Wire Capacity of Wire Connector:
4 #24 AWG (Insulated wires)
4 #22 AWG (Insulated wires)
3 #20 AWG (Insulated wires)
3 #18 AWG (Insulated wires)
Also 3 #16 AWG (Stripped wires)
Additional Specification:
EASY FUNNEL ENTRY
BUILT-IN TEST POINT
PLATED PHOSPHOR-BRONZE INSULATION
PIERCING TEETH
COMMERCIAL AS WELL AS RESIDENTIAL SUPER B WIRE CONNECTORS
INSULATION COVER OF HIGH MECHANICAL STRENGTH
Furthermore, no need to strip wires as well as provides an easy wire insertion as a result of the funnel-entry.
Additionally, compatible with almost any wire, works well with Cat5 as well as Power Wire.