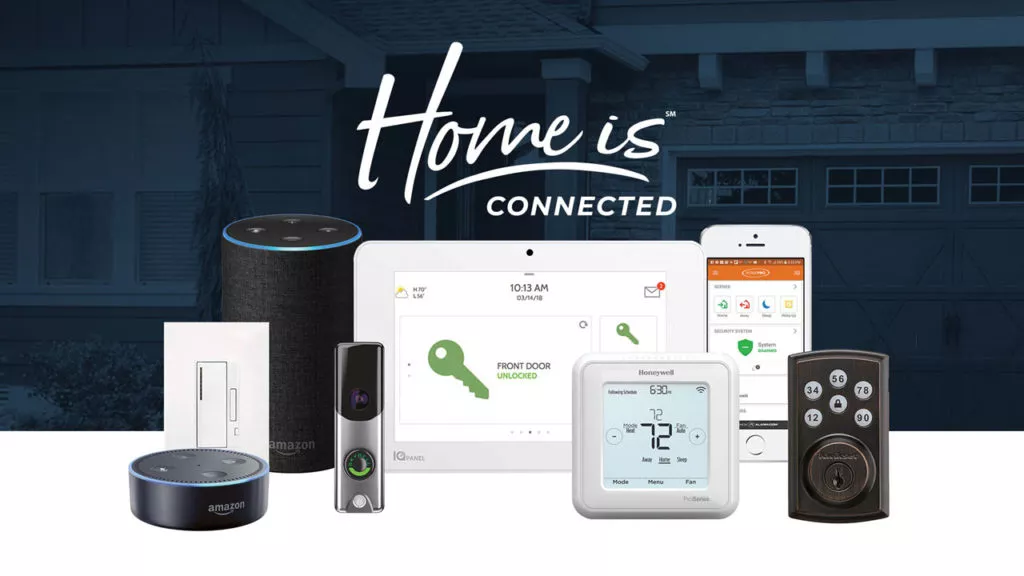 03 May

The Best Connect Smart Home Option for Builders

Consumers are demanding that their new homes come with smart home technology. Builders are usually left not sure what direction to go when it comes to technology. Should they still pre-wire the house? Should they include a smart thermostat or doorlock? What will the hub be? These and several other questions often leave builders confused and unsure what direction to go.

This is where we can help! As experts in home technology, we can help the builder know the options available to best help their new homeowners by choosing a package from our Home Builder Smart Home Packages.
How to not do a smart home
The wrong way to do it is to how Lennar introduced a "smart wifi home". It had all kinds of good things like a Ring doorbell, a Lyric WiFi Thermostat, a Lutron lighting system, Echo Show and Dot, smart things, and a Baldwin smart lock. So you might be wondering, why is that the wrong way? Well, maybe you should ask some people that have one of these "smart homes". They have to figure out how to use 5-7 different apps. When that happens, these devices cannot communicate and work together and the homeowner gets tired of having to learn so many different systems, logins, etc…
The best smart home option for builders is one that provides homes with one smart secure ecosystem where everything is all together in one.  Providing several single point solutions that have to be controlled by individual apps does not equate to a very smart solution. Now instead of having several apps, you can integrate it all through one app.  One secure touchscreen panel is the center of it all.
The app is alarm.com and the panel is the Qolsys IQ2+ Panel. So DR Horton and several other builders are doing it the right way. They are have a lock, thermostat, and doorbell installed that all use the same app and platform. Plus, they can control it all from their Amazon devices as well. In addition, if the homeowner wants additional security they can add more devices.
Features for a successful program for Builders
One App to control it all – Alarm.com
All-In-One touchscreen system – Central Secure Keypad
Easy Path to Security – If homeowners opt for adding additional sensors and protection
No Cost Builder Plan – Basic automation comes standard for free for every homeowner for at least 36 months
Increase Usage – looks and features matter. Customers are willing to pay for products that meet their expectations for technology.
Hardwire or Wireless – Works with everything
Free Model Home Kit – Showcasing the technology will create an awesome model home experience. Click here for more information.

Z-Wave Compatible
Z-Wave compatibility enables total home control and automation including deadbolt, light switch, thermostat, video, doorbell, and alexa systems all connected back to your All-In-One IQ Panel and Alarm.com app.  The Z-Wave protocol is an inter-operable, wireless,  RF-based communications technology designed specifically for control, monitoring and status reading applications in residential and light commercial environments. Mature, proven and broadly deployed (with over 35 million products sold worldwide), Z-Wave is by far the world market leader in wireless control, bringing affordable, reliable and easy-to-use 'smart' products to many millions of people in every aspect of daily life.
Model Home Program
Looking for free equipment to promote homes in your community? Join the our Builder Program! When you partner with Zions Security Alarms you can get a free system for your model home.  *Free equipment offer valid for communities with at least 25 homes per model home.
Model homes will receive the following devices: (Click here to customize your smart home package!)