IQ Panel 2 Plus PowerG Description:
IQ Panel 2 Plus PowerG includes 7" HD Touchscreen, a built-in 5MP camera and a new exclusive feature. Dual SRF featuring PowerG, the best wireless sensor protocol available. In addition, PowerG has 4x the range of traditional wireless. It also has military grade 2-way encryption as well as automatic signal adjustment to improve battery life and ensure a reliable connection. Furthermore, the interference circumvention to ensure the signal never blocks up by other wireless protocols.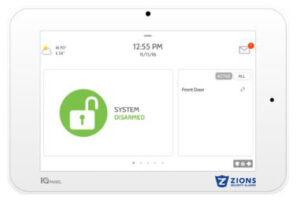 Compatiblility & Features:
It has all the same features as the original Qolsys Panel 2, with just the few added benefits.
In addition to PowerG compatibility each IQ Panel 2 Plus includes a special daughter card for backwards compatibility with one of three different legacy wireless frequencies:
319.5 MHz (Qolsys Encrypted-Line, Interlogix) We currently only feature the 319.5 MHz version.
345 MHz (Honeywell, 2gig) or
433 MHz (DSC) to allow you to re-use your old sensors without requiring an expensive translator.
The IQ Panel 2 Plus also includes Qolsys 2.2 Software. Also including powerful features such as Live View, Live Answer, Bluetooth Touchless Disarming. Furthermore includes LTE as well as Wi-Fi Dual Path Connectivity and more.