ADT Small Business Security with Zions Security Alarms
Zions Security Alarms Loves Small Business
We are a small business and we understand small business security needs. These are a few of the ways we help small business.
Small Business Owners can get a FREE ADT Monitored Security System
As a Zions Security Alarms ADT small business customer, here's what you can get for FREE:
2 Wireless Door Sensors
1 Wireless Motion Detector – Pet Immune up to 80 lbs
1 Talking Keypad with LCD Backlit Display
1 Remote Phone Control – Arm and Disarm your System from any phone
1 High Decibel Interior Siren
1 24 Hr Backup Battery
1 Door Chime Feature
1 Panic Buttons, for Police, Fire, Medical, and Hostage Emergencies
1 Professional installation
1 90 Day Limited Warranty
1 ADT Yard Sign and 5 Window Decals

The above offer is available for business owners with approved credit who sign a 36 month agreement with a personal guarantee. Monitoring rates start at $39.99/mo if you have a landline phone and $45.99/mo if you do not have a landline phone. You can add more equipment to the free system. There are other options available as well if you prefer a shorter contract. Call for details.
ADT Command Monitoring Packages
Traditional

Traditional Equipment

3 Door Sensors
1 Motion Detector
1 Keychain Remote
Cell Radio
Keypad
Siren
Battery Backup
Yard Sign
Decals

Remote

Remote Features

3 Encrypted Door Sensors
1 Motion Detector
1 Encrypted Keychain Remote
LTE Cell Radio
Keypad
Siren
Battery Backup
Yard Sign
Decals
Only arm or disarm from app

Video

Video Features

3 Encrypted Door Sensors
1 Motion Detector
1 Encrypted Keychain Remote
LTE Cell Radio
Keypad
Siren
Battery Backup
Yard Sign
Decals
1 Indoor Camera

Video and Home Automation

Video and Home Automation Features

3 Encrypted  Door Sensors
1 Motion Detector
1 Encrypted Keychain Remote
LTE Cell Radio
Keypad
Siren
App Automation
1 Thermostat or Camera
Battery Backup
Yard Sign
Decals

Starting Install Cost

$99

$99

$99

$99

Monthly Rate

Monthly Rate

Other options available starting at $32.99/mo
that require a landline, but these are the most popular.
Go here for more monitoring options.

$47.99

$53.99

$63.99

$64.99

Basic Features

Basic System Features

Anti-Burglary Service
Sensor Activity Monitoring
User Code Management
Amazon Alexa Voice Services

Mobile Access

Mobile Access Features

With mobile access through ADT Control,
you control your home from the palm of your hand.
Use your smartphone to arm or disarm your system and
receive alerts through the app to notify you of intrusion,
fire, or flood. You can use as many devices as you would
like and even tablets or computers.

–

Text Alerts

Text Alert Features

Through ADT Command, you could receive alerts for a variety of events. Like:

Intrusion
Fire
Carbon Monoxide
Temperature
Flood

You can also set custom notifications to know when a door is opened or if there is motion or not motion.
Examples like your child arrives home from school, there is no motion at your mothers home,
or when a child opens a cupboard.

–

Two Way Voice

2-Way Audio Verification

With two way voice the ADT Monitoring Station is able to talk and listen into the home to get an audio verification immediately. This audio verification can increase response times and reduce potential false alarm fees from the police department.

Video Surveillance

ADT Command Security Cameras

You can have up to 8 wireless cameras added to your ADT Command system. These cameras can record 6000 30-second clips monthly when there is motion or another trigger. You can view live video to check on your home or business. There are indoor and outdoor cameras available. For more cameras you can add up to 8 expansions packs which adds 4 cameras per pack.

–

–

Home Automation

Home Automation Features – Make your Home a Smart Home

Smart Door Locks
Garage Door
Smart Thermostats
Smart Lights
Scenes
Schedules
Alerts
Video Doorbell
Geo-Services

–

–

–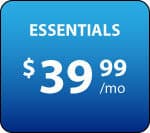 Basic Small Business Digital Monitoring Service
ADT's basic digital monitoring service for small business. If your alarm goes off you will get a call on your business phone first and then your cell phone second. After ADT has contacted you they will contact the police. Includes monitoring for police, fire, and medical emergencies.Requires a land line phone with a phone or cable company.
Small Business Cellular Monitoring Service
Cellular monitoring is the best choice if you do not have a land line phone or if you are concerned about someone cutting your land line phone from the outside of the business.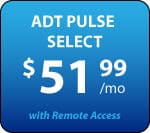 ADT Pulse Cellular Monitoring $199 Installation
This service is for those that want to have the ability to turn their system on and off from the internet or from a smart phone. It requires a $100 upgrade to add, but is gaining popularity since so many love the ability to control their system away from work and to get email notifications. You can actually get a notification if an event occurs or even if an event does not occur.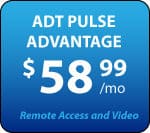 ADT Pulse with Video Monitoring $399 Installation
This is the same as the ADT Pulse above but starts at $399 for installation ($200 more than regular pulse). It adds on video monitoring, the ADT Pulse Ihub, and a device that connects the Ihub to the panel.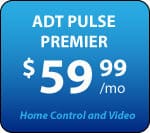 ADT Pulse with Video and Home Control Monitoring $499 Installation
This adds the ability to control your thermostats, lights, and deadbolts from your ADT Pulse web portal or from your iphone or android app. It also includes the regular ADT Pulse remote services and video monitoring services.