Description:
6 Outlet Surge Protector is a quality and efficient surge protector providing basic surge protection for commercial and residential offices, small appliances, phones, as well as many other applications. Additionally, as a result of when voltage fluctuates, swells, or spikes, it can damage sensitive electronics. Finally, through this Surge Protector, it also provides an extra layer of protection.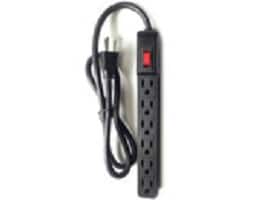 Features of 6 Outlet Surge Protector:
6 outlet power strip
With additional surge protection
3FT SJT 14 gauge power cord
3 prong ground
Lenght: 10.43"
Width: 3.03"
Height: 1.46"
Weight: 0.53 LBS
You can check out our other wiring products on this page.