Qolsys Wireless Flood Sensor:
The Qolsys Wireless Flood Sensor detects the presence of water and allows you to know when potential flooding occurs before extensive damage is done. In addition, it's also great for installing at the base of water heaters, washing machines, sinks, as well as more. Additionally Includes a 6' wire with a water contact sensor.
So if you are worried that a room may be flooded such as bathrooms, kitchens or near the water heater or live in a house that floods a lot this can help detect water when you might not be there and can notify you. You can have it notify you in many different ways as seen in features.
The Wireless Flood Sensor is an easy way to detect the presence of water in any room or area.
Furthermore, water completes the connection between the two contacts as well as triggers an alert that a room may be flooding.
Features:
6′ cord
Water "bug" can be fastened on the floor or on the wall
Reports water presence to IQ panel 2 plus powerg
Get email or text alerts or get alerts on your alarm.com app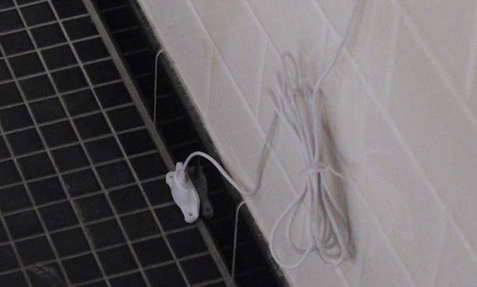 For more information or videos on more security products see our Youtube channel here