Description:
IQ Panel 2 Plus PowerG was the most advanced panel for its time. Now it has been discontinued and replaced with the IQ Panel 4. The Qolsys IQ Panel 2 was the first all-in-one security and smart-home platform that combines advanced hardware and leading interactive software services to deliver a best-in-class experience for its users. In addition, innovative software applications include glass break detection, Bluetooth disarm, the ability to send disarm photos to the smartphone and cloud, and more. It was originally replaced with the IQ Panel 2 plus that has Power G and additional features.
It also has the Qualcomm® Snapdragon™ quad-core 400 processor – a highly integrated system-on-a-chip (SoC) that supports LTE cellular, Wi-Fi®, Bluetooth® as well as HD display. Additionally,  the IQ Panel 2 also includes four field-replaceable radio slots for current and future connectivity as well as an integrated 5 Megapixel HD camera. Additionally, Qualcomm Snapdragon 400 is a product of Qualcomm Technologies, Inc., a subsidiary of Qualcomm Incorporated.
The Qolsys IQ Panel 2 also integrates leading smart home services, powered by Alarm.com. This ensures reliable and easy to use awareness and control across a broad range of integrated connected devices through a single, intuitive mobile app.
Reviews:
"We've enhanced the security of the security system itself, at every level," said Dave Pulling, Qolsys president and CEO. "Providing continuous innovations in security as well as software integration…The entire IQ Panel 2 platform is scalable and upgradable over the cloud, saving [customers] time and money, and ultimately improving customer satisfaction, usage, and retention."
"A smart home isn't smart if it's not secure," said Jay Kenny, senior vice president of marketing for Alarm.com. "We're excited to see Qolsys driving innovation in security with the IQ Panel 2. With a focus on security and innovative capabilities like visual verification from the panel to the smartphone app, the IQ Panel 2 takes advantage of Alarm.com's leading cloud services platform to deliver an integrated and exceptional user experience that will resonate with both dealers and end-users."
Additional Review:
"From smartphones to security panels, point-of-sale, and industrial handhelds, Snapdragon processors are changing the way companies are designing IoT devices," said Anthony Murray, senior vice president, general manager of Qualcomm Technologies International, Ltd. "We're thrilled to see companies such as Qolsys take advantage of Snapdragon 400's integrated features to power a platform that is designed to enable leading connectivity options and support for embedded Android capabilities for the IoT."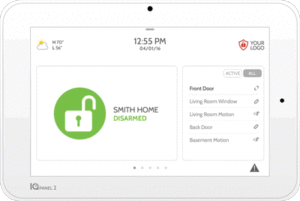 Summary of IQ Panel 2 Features
The IQ Panel 2 delivers a broad set of enhancements, including data encryption on every radio interface, industry-leading IoT support, integration of Alarm.com services, and flexibility to accommodate customization and future innovation. Specific features of the platform include:
Modern, elegant wall mount or tabletop panel with a small form factor. (dimensions: 7.67 inches wide, 5.11 inches tall and 0.91 inches thick). Edge-to-edge glass and a 7-inch, high-resolution (1280 x 800 pixels) capacitive touchscreen.
Additionally, Clean as well as an intuitive graphical user interface with multi-gesture capability.
The integrated 5MP HD panel camera provides built-in motion/presence detection to trigger home automation rules. This also captures disarm photos as well as alarm videos that are automatically delivered to the Qolsys cloud.
The innovative glass break sensor application uses the built-in dual high-fidelity microphones to protect against intrusion as well as save cost.
Specifications:
Hardwire Input: Wired x2 Non-powered, closed-loop circuit
Hardwired Output: Wired x1 Control output only (open collector)
Flash Memory: 8GB NAND Flash (Internal storage)
SD Card Slot: Micro SD x 1
LED Indicator: Status LED, single 3-color LED (green/yellow/red)
Speakers: Dual 1W stereo speakers (unified audio system)
Front Camera: 5MP fixed focus
Microphones: Dual stereo microphones
Internal Piezo Siren: SPL minimum 85dB for UL985
Tamper Switch: Panel tamper switch with spring release and reporting to status app
Battery: Lithium Polymer 3200mAh
Hard Button: While this controls the Single wake button, all user controls go through the touch interface
Power Supply: 5v – 5.5v 1000mA DC adapter, Input 100-240VAC 50/50Hz
Operating Temperature: 50° to 122° F (10° to 50° C)
Lastly, the Storage Temperature from 104° to 176° F (40° to 80° C)
Qualcomm Snapdragon Quad Core Processor, a fully integrated SoC, features:
Pairs with optional remote access panels for persistent control and access throughout the home.
Native LTE cellular support for all major cellular standards – SIM card support for various cellular carriers. Minimizes panel SKU's and reduces dealer installation time.
Native Wi-Fi 802.11ac – Supports up to 350 Mbps speeds over both 2.4GHz and 5 GHz channels. Allowing the panel to serve as a router for private, secure connectivity to remote access panels. IP Cameras and other Wi-Fi ecosystem devices within the home.
Integrated Qualcomm® Adreno™ 306 GPU – For advanced graphics and HD display.
SE Android 5.1.1 Operating System – Includes a token-based file system and superior secure cloud connectivity.
Four field-replaceable and encrypted radio cards:
SRF (Security Radio Frequency) – Supports up to 128 Qolsys encrypted S-Line sensors, as well as legacy 319.5 MHz sensors.
Z-Wave Plus – For performance, and reliability while with always-on encryption for up to 232 Z-wave devices.
Proprietary radio – For up to 5 Image Sensors, each a motion sensor with a built-in still camera.
PowerG – Leading military-grade wireless encryption technology with frequency hopping that enables superior range. Stronger immunity from radio frequency interference and better overall security system reliability.
Please check out our YouTube Channel for more information.