Description:
The Leviton Z-Wave Appliance Module is ideal for any residential setting that needs remote ON/OFF switching of appliances, motor loads up to 1/2 HP, or freestanding lights, including Incandescent, LED, Fluorescent, and Compact Fluorescent loads. Additionally, typical applications include switching of fluorescent lamps, portable fans, kitchen appliances, indoor fountains and more. This module also allows users to incorporate small appliances into scene and zone home control applications.
In addition, it provides 15A, 120 VAC NEMA 5-15R grounding receptacle for use with a wide variety of lamps and appliances. The button on the front of the Leviton Z-Wave Appliance Module is now exclusively utilized for including/excluding the device in a Z-Wave network. Additionally, it also has scene and zone control integration as well as 2-way status updates. Protected memory maintains ON/OFF status of loads and during minor power fluctuations. It also has quiet relay switching.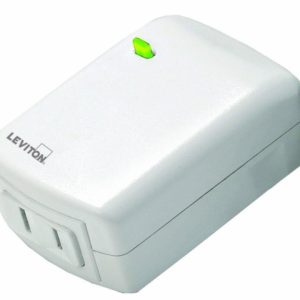 This device is also compatible with all ADT Pulse as well as Alarm.com.
Additional Features:
Provides 15A-120VAC NEMA 5-15R grounding receptacle for use with a wide variety of lamps and appliances
Rated for 1800W Incandescent, 1800VA Fluorescent, or 5A LED/CFL
2-way status
Optimized for use with home automation hubs, gateways, and controllers.
Protected memory maintains ON/OFF status of loads as well as during minor power fluctuations
Supports Z-Wave Beaming
Specifications:
Operating Temperature: 0°F to 55°C
Non-Operating: -10ºC to 85ºC
Relative humidity: 20% to 90% (non-condensing)
Five-Year Limited Warranty