Sale
ADT Wireless Door Sensor or ADT Window Sensor for Honeywell/Safewatch Pro ADT Panels
$60.00 – $85.00
Description
Description:
Take a look at this new ADT Command Door/Window Sensor.
This is the standard ADT wireless door or ADT window sensor that's compatible with Honeywell or Safewatch Pro ADT Alarm Panels. If you're not sure if your panel is compatible, read this blog post about how to identify your panel type. If it's a version of a Lynx, Safewatch Pro, Quick Connect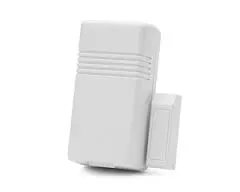 , or Vista, then it's compatible. The ADT Pulse TSSC Panel is also compatible.
The sensor also comes with the magnet (the smaller part shown below), and it includes a supervised replaceable lithium battery. It's available in white or brown. If you just need a new magnet you can get one here.
Requirements:
You must have a wireless receiver with room for a wireless device to add a wireless door/window sensor. This part also needs to be programmed. You will need to call for help programming or schedule a technician to come install it for you, unless you know how to program it yourself. If you have a Vista or Safewatch Panel, you need an Alpha Programming Keypad in order to program it. If you have a Lynx or Quick Connect, you can program it using the keypad you have.
Different Uses Include:
You can use this transmitter two ways. One using loop 2 where you line up a magnet on the side of it.  The other is using loop 1 where you run a hardwired sensor into the wireless transmitter. So, it has both built-in magnetic reed switches and a wired closed circuit contact loop.
The average price for these door sensors or window sensors is $149, but we only charge $60 with free shipping on orders over $200.
Extra Info
Dimensions: 3-1/16″ H x 1-9/16″ W x 1-3/16″ D
UL Listed
Uses Frequency 345 Mhz
Additional Information
Reviews (1)