The ADT Pulse Z-wave Extender helps broaden the mesh network that is made up of all powered z-wave devices. This extender also provides wireless control for any plug-in fluorescent lamp or small appliance, such as a coffee pot. The module simply plugs into a standard power outlet, and your lamp or appliance plugs into the module. Now the connected device can be turned on or off and dimmed or brightened with any Z-Wave controller!
The ADT Pulse Z-wave Extender also includes two outlets: a Z-Wave enabled outlet for the lamp or appliance you want to control and a regular pass-through AC outlet for other electrical devices. The module also features a horizontal design to avoid blocking other nearby receptacle outlets.
Additionally, it can control small appliances, standard incandescent lighting, and fluorescent lighting. Its horizontal design also keeps your other outlets unblocked.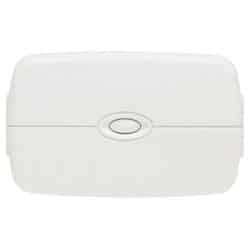 ADT Pulse Z-wave Extender Specifications:
Power: 120VAC, 60Hz
Signal Frequency: 908.42 MHz
Maximum Load
For both outlets: 15 Amps, 1800W Resistive
For the Z-Wave controlled outlet: 600W Incandescent, 1/2 HP Motor or 1800W Resistive
Range: Up to 100 feet line of sight between the Wireless Controller and the closest Z-Wave receiver module. (Obstacles reduce range by 25-30%.)
Operating Temperature Range: 32 to 104°F (0 to 40°C)
Approvals: FCC