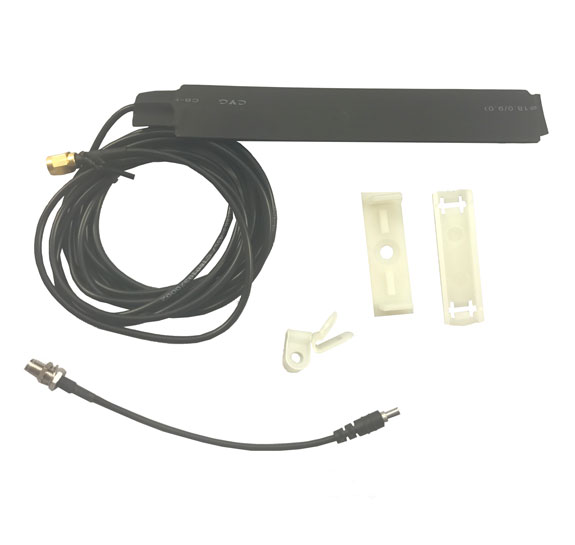 The ADT TS Base Station has an internal dual band cellular antenna. In most cases, this antenna will provide sufficient signal strength. The ADT TS Base Station Antenna can be used if the internal antenna of the TS Base Station is not reaching a signal strength that is acceptable or consistent. Adding this antenna to a higher point within the building will provide a better signal.
Some people will have a yellow, orange, or red cell signal strength. In order to try and get it to be green you can add this antenna.
For best signal strength, maintain at least 12 inches of clearance between the module and steel I-Beams, HVAC ducts, metal studs, steel roofs, or exterior walls with metalized insulation or aluminum siding.  Basically any large metal object will mess up the cell signal.
What comes with the base station?
Antenna Cable
Adapter Cable
Mount
2 Clamps
4 screws and anchors
The ADT TS Base Station Antenna is not weatherproof and is only to be installed indoors and mounted vertically.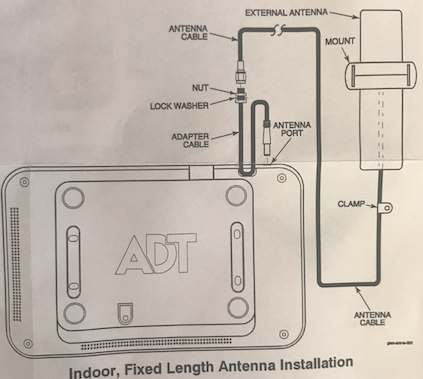 How to install
Connect the short adapter cable to the antenna cable
Plug the end of the adapter cable into the external antenna port and route the cable around the holding tab on the back case as shown
Find a suitable location that will allow the antenna to be mounted vertically
Adjust the location of the antenna until the cellular LED light is green
Permanently mount the antenna vertically using the included hardware
Specifications
Type – Dual band, dipole, PCB
Bands – 824-896 MHz, 1850-1990 MHz
Polarization – Linear
Gain (average) – 1dBi
Impedance – 50 Ohms
Input Power (max) – 10W
VSWR – <2:1
Dimensions – 143 x 27 mm (5.63″x1″)
Cover – Polyolefin, black
Cable Type – RG-174
Cable Length – 3m (9.84ft)
Connector Type – SMA male
Please check out our YouTube Channel for more information.