ADT TS Base Station Battery
$60.00
This ADT TS Base Station Battery  is the replacement back up battery for your ADT TS Base Station (This system is what most of the ADT Pulse users will have going forward since it has the gateway, cellular, control panel, back up battery, and siren built into one convenient unit.)
Description
This ADT TS Base Station Battery is the replacement backup battery for your ADT TS Base Station. This system is what most of the ADT Pulse users will have going forward since it has the gateway, cellular, control panel, backup battery, and siren built into one convenient unit.
The ADT TS Base Station Battery is a replacement battery for the ADT Command and Control Wireless Security System. The battery is designed to provide backup power to the base station in case of a power outage. It is a rechargeable lithium-ion battery with a capacity of 2400mAh and a voltage of 7.4V.
The battery is easy to install and can be replaced without the need for any special tools or technical expertise. When the battery is low, the base station will send a notification to the ADT app, alerting you to replace the battery.
It is important to note that the battery is only compatible with the ADT Command and Control Wireless Security System and cannot be used with any other security system. Additionally, it is recommended that you replace the battery every two to three years to ensure optimal performance.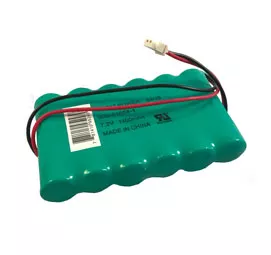 You can replace the battery yourself by removing the back cover of the base station.
Weight: 12 Oz
Capacity: 3700mAh / 26.64Wh
Volts: 7.2V
Size : 100.80 x 68.00 x 17.20mm
If this battery does not match the one you have, check out our other batteries on this page. If you cannot locate your battery on our website, please contact us and we will find the right one for you.
Please check out our
YouTube
Channel for more information.
Reviews (1)