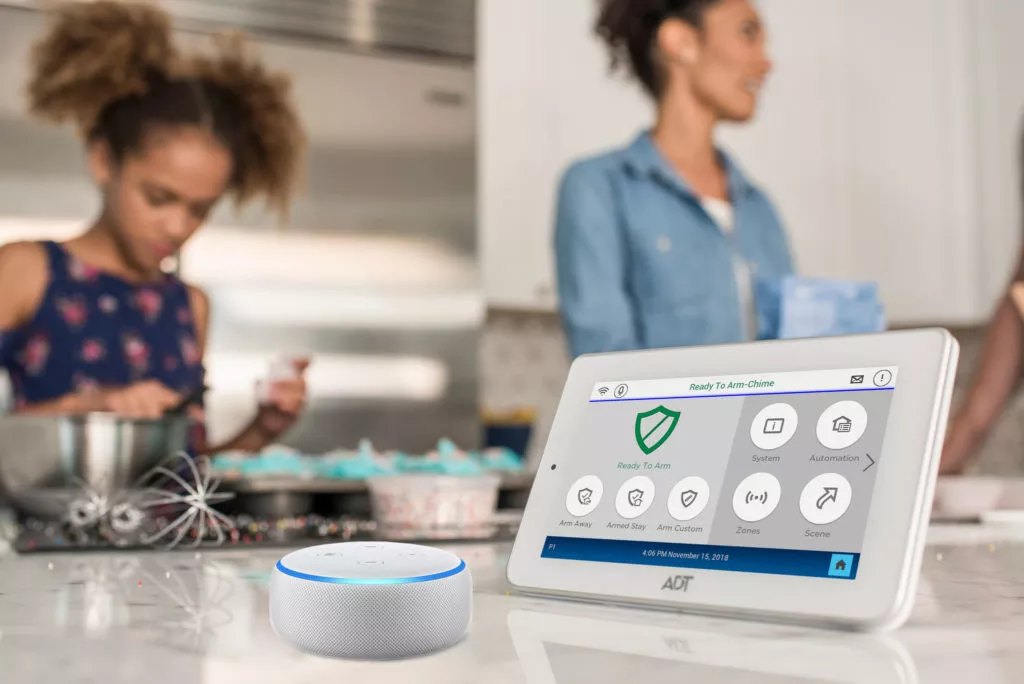 14 May

Learn How to Enhance your ADT Smart Home with Amazon Alexa Guard
The command panel no longer works with Alexa
What is Alexa Guard?
Learn How to Enhance your ADT Smart Home with Amazon Alexa Guard through ADT, the #1 Smart Home Security Service Provider, is proud to help bring Alexa Guard to market. Configure supported Echo devices to detect specific sounds they select, such as the sound of Carbon Monoxide and Smoke Alerts or Glass Break breaking. When the Echo device detects a sound, it creates an alert. Then you can decide to send it to ADT or not. The Alexa Guard works with ADT Pulse and ADT Control.
Practically speaking, homeowners can't always be monitoring their home when they are away, so now super-techy, voice-enabled Alexa Guard pairs with ADT to help bring increased awareness to their home.  This is also an exciting advancement in alarm verification.
When paired with their ADT smart home, Amazon Alexa Guard allows customers to have alerts sent directly to ADT, in addition to their mobile devices. ADT will verify the alarm and call the customer to see if emergency help is needed.
A Seamless Addition to Your ADT System
The Alexa voice service is a seamless and easy way to access your ADT mobile app using just your voice. Ask Alexa to arm and disarm your system, control your lights and locks, and even open or close your garage door. Setup is as easy as adding a new skill to Alexa.
Benefits of Adding Alexa Guard to your ADT Smart Home
Your system can now listen for your local smoke and co detectors if you do not have monitored ones already added or for an extra layer of safety
Your system can now have a glassbreak detector in every room (since each echo device can now be turned into a glassbreak detector)
Even easier integration with ADT where you can just say "Alexa, I am leaving" to arm the system or "Alexa, I am home" to disarm the system.
Lighting schedules can be applied easily and based off of sunrise and sunset times.
Ask Alexa to perform tasks you can perform through the ADT mobile app.
Alexa recognizes specific names you assigned your devices in the ADT mobile app.
Extend Alexa and the ADT app by adding more Amazon Echo devices around your home.
Use your voice to control multiple functions of your ADT smart security system.
You get the hands-free convenience of Alexa with peace of mind from America's leading security company.
How do customers pair Amazon Alexa Guard with their ADT smart home?
Once the customer has their Echo device installed and enabled the Smart Home Skill, the customer will setup Alexa Guard.
Within the Alexa app, select the Devices Icon (icon on the bottom far right). Then from the menu icon, select "Alexa Guard can help you keep your home safe".The Customer will then walkthrough the specific set up for Guard.
The customer will need to select to add Carbon Monoxide, Smoke Alerts and Glass Break Smart Alerts. (Note, ADT will not be dispatching for glass break at this time.) Then the customer will select to Add for the ADT Security System.
At that point, the customer will choose Automatic forwarding or Manual forwarding all Smart Alerts to ADT. It is highly recommended that the customer selects to Automatically forward the alerts to ensure the fastest response possible.
The customer will then add their Away Lighting options. When using the feature, the customer will enter their zip code for Alexa to know when sunset occurs and when to start the randomizing of the lighting. Important note – the customer will need to remove any lights or appliance modules that they don't want to be part of the Away Lighting in the Guard Settings.
Finally the customer will be directed to the Confirm Guard Setup page to get a quick glance at their designated setup. If all looks good, select Confirm followed by Done on the next page to complete setup.
Follow the steps depicted below when connecting Alexa guard through your app.