ADT Command Smoke-CO Detector Description:
The ADT Command Smoke-CO Detector Works as a detector for Smoke, Heat, as well as CO detection with your system. This detector features voice notification of event types such as English, Spanish, or French. Furthermore, it has a built in siren with an LED ring which shows the event type.
In addition, using four sensing elements, the Combination Detector provides true multi-threat detection and reacts fast to real danger—while helping to reduce false alarms. Also, a photo-electric chamber senses airborne smoke particulates while an electro-chemical sensor monitors the CO bi-product produced by slow smoldering fires. Compatible with all ADT Command Systems.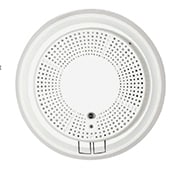 General Info:
The detector also features infrared (IR) flame sensing that measures ambient light levels and flame signatures, while thermal detection monitors temperature. Sophisticated and also trusted algorithms interpret and respond to multiple inputs and provide the false alarm immunity expected in the most critical applications. Automatic drift compensation of Smoke and CO sensors accommodates for dust build-up over time. In addition, the reliable electro-chemical sensor has a 10-year lifespan.
Audible annunciation is also provided by a built-in 85 dB piezo sounder with a one-inch voice speaker that supports multi-language alarm feedback. Also has a prominent, 360° viewable LED shows visual alerts. Also, a smoke alarm condition illuminates red, a CO alarm condition illuminates blue, and a tri-color status LED intuitively indicates the operating mode.
Features:
Voltage: 3 volts DC
Number of Batteries: 4
Battery Type: CR-123
lithium Battery Manufacturer: Duracell®
Sensitivity: UL limits .9 to 3.5%/ft
ULC limits .9 to 3.08 %/ft
Thermal sensor: 135°F fixed heat
Audible Signal: 85 dB
Three Unique Zones: Smoke/Heat, CO and also Low Temperature alert