This Wireless ADT Motion Detector is pet immune up to 80lbs. This motion needs to be programmed and can only be added if your panel has room for another wireless zone) It is compatible with all Honeywell Wireless compatible panels. These include Quick connect, Lynx Plus, Lynx Touch, Safewatch, and Vista panels. It's also compatible with the new ADT Pulse TSSC Panel.
Installation:
This amazing security purpose product is meant to be mounted around 8 ft off the ground and is usually placed in a corner away from heating and air conditioning vents. It should also not be facing direct sunlight or facing a ceiling fan.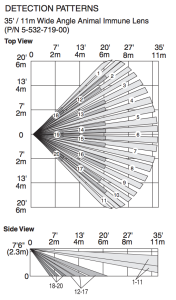 Main Features:
35′ x 40′ pattern
Installation is faster with no DIP switches or jumpers to set, an easy opening case with no PCB to install, no mounting height adjustments, and an automatic walk test that lasts ten minutes on power-up
Pet immune to 80 lbs.
Enjoy fewer service issues thanks to the automatic walk test that automatically turns off, eliminating callbacks due to low batteries caused by jumper setting of walk test on older designs
Includes longer-life, end-user replaceable batteries (38% longer than 5890PI)
The sleek, compact sensor can be custom-painted to match any interior—making it an appealing choice for end-users.