Description:
The ADT Hardwired Dual Tech Motion Detector with Pet Immunity up to 100lbs is what you need to protect your home. With the passive, infrared, ADT Hardwired Dual Tec Motion Detectors with Pet Immunity up to 100 lbs, optimum performance is also achieved using custom developed extended range Fresnel optics, look down, cover and wall tamper. It also has selectable pet immunity, which helps reduce false alarms.
Specifications:
The range is 40′ x 56′
Power – 9-15VDC, 15mA typical, 17mA max
Tampers – Cover as well as Wall
Microwave Frequency – 10.525GHz
RFI  Immunity – 20V/m 10-1000MHz, 15V/m 1000-2700 MHz
PIR White Light Immunity – 6500 typical
Fluorescent Light Filter – 50Hz/60Hz
Operating Temperature – 14 to 131°F
Relative Humidity – 5 to 93%; non-condensing
Temperature Compensation – Advanced Dual Slope
Dimensions – 3.86″ x 2.24″ x 1.71″
Weight – 3.6oz
Lastly, Pet Immunity – less than or equal to 100lbs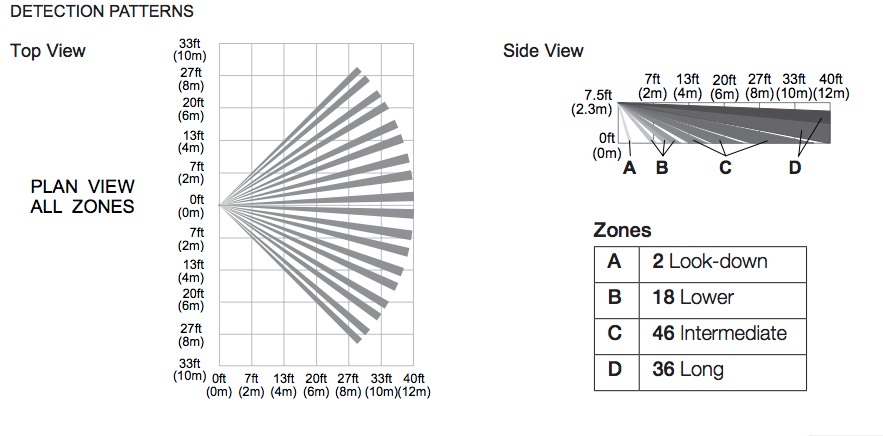 Features of ADT Hardwired Dual Tech Motion Detector with Pet Immunity up to 100lbs:
Sleek, Sturdy Housing
Sealed Optics as well as Electronics
Integrated Screw Retention Features
Uniform Sensitivity Optics
Wall-to-Wall Coverage
Advanced DualCore Signal Processing (DUAL TEC)
Superior Detection as well as False Alarm Immunity
Pet-friendly Selectivity
Selectable Look Down
PIR White Light Immunity
Flashlight Walk Test
Flexible Mountings
Furthermore, We have an extended range of pet immune motion detectors, you can also take a look at them on this page here. If you can't find what you are looking for on our website, please send us a message through our contact us page and we will locate the part for you.