The Rare Earth Mighty Magnet is perfect for small areas where you are not able to drill a normal recessed magnet. They're also very helpful since they're much stronger of a magnet than a regular magnet. This means that the alarm sensor that is on the opposite side of the door or window is going to be able to acknowledge that the door or window is closed.
The Rare Earth Mighty Magnet assists in resolving the installer's problem of drilling into the new thinner, vinyl windows. These rare earth magnets are less than 1/8″ high and install fast and easily without worry over damage to the window itself. Rare Earth Mighty Magnet also makes use of a rare earth alloy. This allows the size of the magnet to be significantly reduced while still retaining or improving the gap involved.
These rare earth magnets mounts with the mounting screws and or double stick tape. This is included in the bag or may be glued into the window.
Benefits
Solves Problem Window Installs
Time Saving Installations
Mighty Magnets are also Nickel Plated to Protect from Chipping or Corrosion
Specifications
3/8′ Diameter x 1/8′ depth
Tape and screws included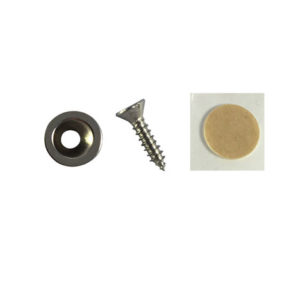 If this magnet doesn't match the one you have, take a look at our other magnets on this page. If you can't locate your magnet on our website; please contact us and we will find the right one for you.
Please check out our YouTube Channel for more information.