Zboost, a leader in consumer cell phone signal boosters, offers the improved Zboost Cell Signal Booster as the solution to your missed and dropped calls inside your home or building. In addition, this signal booster also boosts cell phone signals for voice calls as well as text for all major carriers. This is great since most buildings are difficult for cellular signals to enter and reach all areas.
The Zboost Cell Signal Booster captures the reliable cellular signal you have outdoors and rebroadcasts it indoors, up to 3,500 square feet, so you can enjoy clearer, faster, and more reliable service without interruption.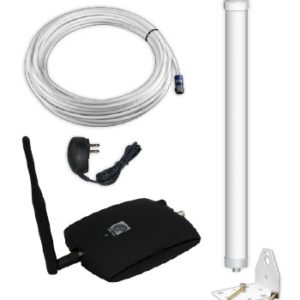 Zboost Cell Signal Booster Features:
Includes amplifier base unit, indoor antenna, power supply, 50 ft. of RG6 cable, external antenna, and mounting hardware.
High performance dual band signal booster – coverage up to 3,500 sq. ft. (up to 69 dB system gain)
Ideal for buildings with reliable outside signal
Reduces dropped and missed calls and can provide faster 3G data performance for multiple simultaneous users
Automatically operates at maximum gain – no manual adjustments needed
Extends battery life of cellular devices
Increased indoor coverage area
Additional Information:
BEFORE USE, you MUST REGISTER THIS DEVICE with your wireless provider and have your provider's consent. Most wireless providers consent to the use of signal boosters. Some providers may not consent to the use of this device on their network. If you're unsure, contact your provider.
You can find our further networking products here.