Qolsys Wireless Smoke Detector:
The Qolsys Wireless Smoke Detector is connected to your IQ Panel and monitored 24-7, whether your system is armed or not, and protects your home and family from the threat of fire and smoke. It is easy to add and can be installed anywhere in the home. And because your system is always connected, you'll be informed of the problems, wherever you are.
It is compatible with the Qolsys Panel and the Qolsys Panel 2.
This smoke detector detects the presence of smoke using photoelectric smoke-sensing technology. They usually are "in addition" to existing smoke detectors vs replacing the ones you have with these ones. You will just have two kinds. (one that is monitored and one that just makes noise)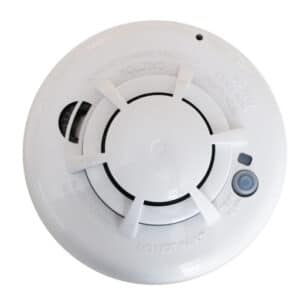 Features:
"Always on" technology ensures the sensor is monitored round the clock, whether your system is armed or not.
Ultra sensitive smoke sensor prevents false alarms while
Heat sensor detects the rapid rise in heat that comes from a fire- even when there is no smoke (like an electrical fire)
Wall or ceiling mounted
3-5 year battery life
General Information:
Name: Qolsys QS5110-840 IQ Smoke Wireless Photoelectric Smoke Detector, Qolsys Inc, Qolsys
Category: Qolsys, Intrusion, Life Safety Devices, Smoke Detectors
UPC Code: 854545006177
Country of Origin: United States. Country of origin is subject to change.
Please check out our YouTube Channel for more information.