The Firefighter Smoke Alarm Detector by Encore Controls is the easiest, most cost-effective way to add fire alarm monitoring to your 2GIG, Interlogix (319), and Qolsys wireless panel. It is also compatible with Honeywell (345) Systems. (Most ADT installs are Honeywell, but some are also GE Concord and Simons. Some are also DSC, and there is currently not a DSC compatible Firefighter.)
The FireFighter's™ unique technology monitors the existing UL smoke detectors within the home. When it detects an alarm, it sends a wireless signal to the control panel. The panel then contacts the central monitoring station.
With interconnected hardwired smoke detectors found in most homes today, only one detector is needed to monitor ALL the UL smoke detectors within the home. You just need to install it next to one of the interconnected smoke detectors already located in your home (see picture below).
But you should keep in mind that most homes only have ionization smoke detectors, not photoelectric smoke detectors. For this reason, we still recommend that you add some photoelectric smoke detectors to your home.
How to install a Firefighter Smoke Alarm Detector: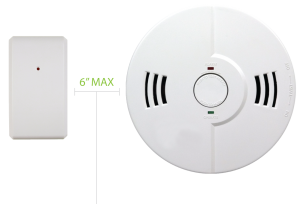 Wirelessly monitor ALL hardwired UL smoke detectors in a home by simply installing ONE FireFighter within 6 inches of any one of the linked UL smoke detectors.

Specifications:
Monitors any existing UL smoke detector
ETL Listed to UL985
100% compatible with options listed above: 2GIG and Interlogix wireless (319) receivers. Furthermore compatible with Honeywell wireless (345).
Uses 1 CR123A long-life lithium battery
FCC, IC, and ETL listed
To get more information on some more of our products or security in general you can visit our YouTube channel here