ProdataKey 2 Door kit Description:
The ProdataKey 2 Door kit consists of the ProdataKey Single IO Wireless Controller and the ProdataKey Cloud Node. Each work together to support a secure system. The The cloud node works as the main system panel and is the gateway to the pdk.io cloud platform. Whereas the Single IO Wireless Controller is used for adding doors to the Cloud Node. With the option of Network, PoE, or wireless connectivity, the single io is the most flexible controller on the market. It also includes a single door controller, making it perfect for single-entry jobs. Simply connect the cloud node to the door hardware, then connect it to the network. (Note: This product has been replaced with its newest version, ProdataKey Door Controller up to 8-door controller)
The cloud node then communicates with all local door controllers while storing all data on site in case of an internet outage. Ultimate flexibility is achieved by using ethernet, PoE, and wireless controllers with the cloud node. System takeovers and upgrades are also a breeze, as the cloud node conforms to existing industry standards. Additionally, each unit has a fully supervised power circuit that monitors input, output, battery voltage, and overall controller health. Users also receive important system notifications via text and email.
PRODATA KEY CLOUD NODE SINGLE IO FEATURES
Connects to pdk.io Cloud Platform – Pdk.io provides the most powerful and streamlined access control platform on the market. Experience full configuration and management from any internet-connected device. Manage users, create groups, open and close doors, set system rules, get SMS & email alerts, and more. All in a single App.
Plug n' Play Connectivity – All io devices work to be plug n' play. That means they're super easy to install right out of the box. It's easy to add in any io device no matter how large the job is, and you can quickly scale a system to any size. The cloud node can connect to up to a thousand doors on a single platform.
Perfect for Single or Multi-Door Installs – In addition to connecting to our cloud platform, the cloud node also doubles as a single door controller. It's the only device you need for a single door install. Just connect to the network and door hardware for a streamlined installation.
Upgrade Any System – Backward compatible hardware makes system upgrades and takeovers a breeze. Simply replace any existing panel with a cloud node and io controllers, then connect it to the network to instantly bring the system into the cloud.
Fully Supervised – Pdk.io intelligently monitors the battery health, power status, network, and wireless connectivity of each controller in your system and alerts you if any issues arise
Automatic Software Updates – Experience future-proof access control that's always secure, and up-to-date. The cloud node updates automatically as new features, and security enhancements become available.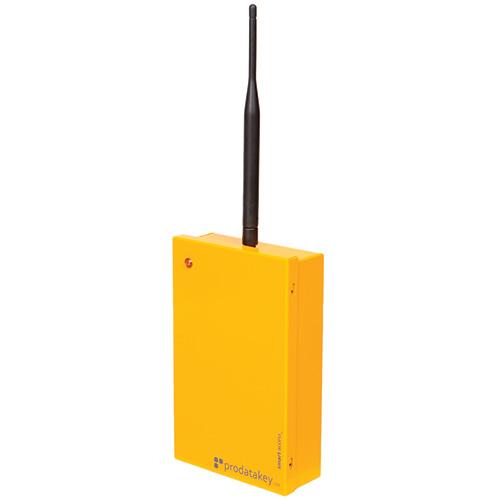 Additional Features (Single IO)
Scalability: Whether you need three doors or a thousand, the single io controller also allows you to scale the system to just the right size. Also, with the flexibility of our WiMACTM wireless, you can add more doors anytime, or anywhere.
Two Reader Inputs: Two reader inputs are ideal for applications where both read in and read out is a security requirement. Know exactly when users enter and exit a premise. You can also assign the second reader input to trigger automated events
Unparalleled Wireless Range: With WiMACTM (Wireless Mesh Access Control), experience up to one-mile line of sight, and 450 ft. (on average) indoor range. Every WiMACTM device installed extends and strengthens the self healing wireless mesh network. WiMACTM is unmatched in security with a proprietary signal and AES encryption.
Network, PoE, Wireless: Choose from three flexible connectivity options that fit any application. The single io also has ultra low bandwidth consumption and easily connects to existing or dedicated networks. Additionally, you can easily expand a systems wireless coverage (via network) using the Ethernet Gateway
Please check out our YouTube Channel for more information.