Description:
The GE Concord Wireless Kit 4 is truly a full-featured wired and wireless hybrid security system for intrusion and fire detection (8 Hardwire zones & 96 Wireless zones). It's also simple to use. Additionally, Concord's modular design, as well as advanced software, provide outstanding system flexibility to meet the needs of virtually any residential or commercial security application.
Furthermore, the panel also comes standard with eight hardwire zone inputs, including a 2-wire smoke detector loop that can handle up to 20 detectors. Finally, a built-in RF receiver with 96-zone capacity provides instant compatibility with the complete line of GE Interlogix Security Learn Mode sensors.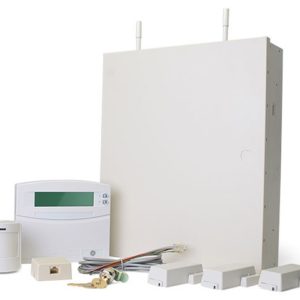 General
The GE Concord Wireless Kit has easy programming using your keypad, and a menu-driven text interface. A quick programming menu makes it even easier to install smaller, basic systems. Additionally, pressing a single button performs a system command, eliminating the need to enter an entire command string. Plus, each of the four macro buttons on these touchpads performs one system command per partition. Furthermore, system commands up to 14 keypresses can also be programmed. Macro keys also create custom arming levels. For example, a user might create an arming level that would automatically bypass selected interior sensors to create a special "Night" mode setting so they can leave a specific window open.
Features:
Two onboard programmable outputs
SIA CP-01 False Alarm Reduction Standard compliant
Panel auxiliary power provides 1 amp
230 user-programmable access codes with programmable authority levels
250-event history buffer viewable from any alphanumeric keypad
Time and status displayed on all touchpads
16 schedules available for scheduled lighting and outputs