The DSC NEO Wireless Slimline 4 Button Wireless Key is a wireless key with a slim design. This key combines easy management of the security system with the added confidence of personal portable protection.  In addition, the modern, compact key lets users easily arm/disarm the system as they approach the building or call for help when in close proximity to, or inside, the building.
This DSC NEO Wireless Slimline 4 Button Wireless Key provides both visual as well as audible verification of the successful execution of any requested commands. It can also be used to provide system information back to the user. For instance, if a system trouble event is present, the key will provide a notification to the user via the onboard message LED.
Finally, this key is equipped with a full three-second activation delay on its panic function to help reduce false alarms. This minimizes costly false dispatches caused by accidental activation. Additionally, the other keys incorporate a one-second delay to minimize false activation.
This key is compatible with DSC Powerseries Neo or DSC Iotega and Qolsys Power G.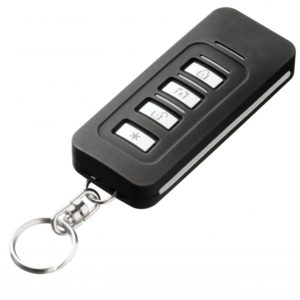 Features:
4 programmable function keys
Visual as well as audible indicator to acknowledge requested action
Full 3-seconds delay on panic function resulting in reducing false alarms
Visible signal quality indication shown on the device
Prolonged battery life (5 years as a result of typical use)
Dimensions: 60 x 34.5 x 12.5mm (2.3 x 1.3 x 0.5in)
Specifications:
Dimensions: 67 x 27.6 x 12 mm (2.64 x 1.09 x 0.47 in)
Battery Life: 5 years (typical use)
Battery Type: 3V Lithium battery
Weight (including battery): 25g (0.9oz)
Operating Temperature: -10°C to 55°C (14°F to 131°F)
Maximum Devices, as a result, of any combination: 32