Description:
The DSC Iotega Wireless Table Top Security Panel is an advanced, all-in-one smart security system that can do security sensors, automation, and more using internet or cell connection to the monitoring station. It can also be used in residential or commercial applications. In addition, you can control it with a smart phone app and all of its sensors use 128-Bit AES Encryption.
Furthermore, you can have up to 99 users with unique codes, add z-wave devices, and wifi cameras.  It also has dual path ability but also singular path ability. (Choose if you want just the Internet Communicator or the one that also has a cell back up.)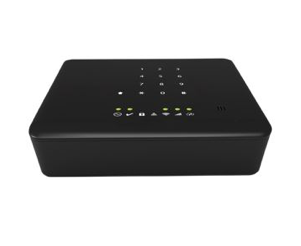 Additional Information:
The keypad on the top illuminates when it senses you are close. Zions Security Monitoring station can be alerted in the event of burglary, fire, panic, and other emergencies.  It also has a built-in siren and a microphone and speaker for 2-way audio. The back up battery that it comes with can also easily be changed out after 2-5 years of use.  In addition, it's easy to self install but advanced enough for professional installation as well. Furthermore, the wireless range for sensors is 1.2 miles line of sight. So that makes the DSC Iotega Wireless Table Top Security Panel one of the longest wireless ranges in the wireless security industry!
All Power G Wireless parts that are compatible with the Neo panel are also compatible with this system.
Most Common Compatible Parts Include:
Finally, The encryption is the most advanced in the security industry with 128-bit AES Encryption and multiple advanced security features like its Transport Layer Security. Additionally, it even has multi-channel frequency hopping spread spectrum technology which overcomes frequency blocking and interference. In addition, TDMA synchronized communication thus preventing messaging collisions.
Additional Features of the DSC Iotega Wireless Table Top Security Panel
Wireless panel with table top installation
Your preferred offering of security and smart home devices
PowerG – Fully encrypted and reliable wireless security system – End to End 128-Bit AES Encryption
99 user codes available – including Master Code
Compatible with SecureNet SmartLink+ as well as SmartTech
Local firmware update App
Ethernet, WiFi, cellular (LTE** or 3G) upgrade available
Dual path communication
Z-Wave Plus – 500 series
Smooth-touch keypad for main security functions
Proximity sensor illuminates keypad with a simple gesture
2-way audio alarm verification via cellular*
Built-in siren activates upon event trigger
End-user accessible SIM card slot
End-user replaceable battery
Compact and sleek design
Specifications of the DSC Iotega Wireless Table Top Security Panel
Dimensions (W X H X D) – 5.70 x 5.10 x 1.49 in 144.8 x 129.5 x 37.8 mm
Internal Sounder – 85dB at 3 ft
Sounder Cadences – Steady, Pulsed, Temporal, Flood, CO (Carbon Monoxide)
Memory Type – Embedded flash memory for programming as well as data retention
AC Adapter – Wall plug-in as a result of having barrel jack connector Primary: 90 VAC – 264 VAC, 0.35A Secondary: Regulated 12V DC, 1.16A, 47 – 63 Hz
Backup Battery – 24 hour Lithium, and 4 hour Lithium options available
PowerG Frequency – 868 MHz / 915 MHz
Current Draw – Average 200 mA at 12V DC (while not charging backup battery)
Temperature Range – 0°C to 49°C (32°F to 120°F)
Relative Humidity – 5% – 93%
Additional Approvals – FCC/IC, UL/ULC, SIA CP-01, CE, CSFM