DSC Iotega Wireless Power G Keypad Description:
The DSC Iotega Wireless Power G Keypad is part of the iotega safety, security & lifestyle solution with your existing system. In addition, Iotega and Power G are an all-in- one highly secure as well as flexible smart security and home automation platform for residential and small commercial properties. Furthermore, sleek, stylish and compact, it can also be placed in any room, blending in nicely with any décor.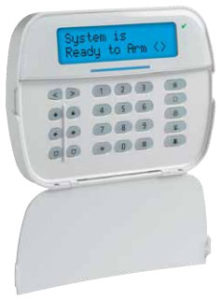 The Power of PowerG:

The power behind The DSC Iotega Wireless Power G Keypad lies in various innovative technologies, including the revolutionary PowerG, which, bundled together, provide a robust and feature-rich platform designed to reduce operational costs for dealers and provide ultimate reliability for end-users.
Furthermore, multi-channel, Frequency Hopping Spread Spectrum technology enables the system to hop between wireless frequency channels to ensure the seamless transmission of secure communications between the devices and the control panel.
Additional Adaptive Transmission Power reducing battery replacement- incurred costs.
While High transmission ranges allow for devices to reliably communicate up to 2km/1.24 miles line-of-sight, therefore reducing the cost of installing additional repeaters to service larger premises.
1TDMA synchronized communication technology prevents messages from colliding by splitting channels into various time slots, allowing for an increased amount of data transmission and ensuring that devices are able to consistently communicate when needed.
128 bit AES encryption offers an exceptionally high level of protection against analysis tools as well as digital attacks.
Features
2 x 16 full message display
Automatic clock programming
Multiple door chime
Blue display
White keymat backlight
Displays temperature
Multiple language support: English, French, Spanish
5 preset function keys
Tamper switch
Lastly, Arm/Disarm