Description of ADT Carbon Monoxide Detector Wired Round:
The system-connected ADT Carbon Monoxide Detector Wired Round with RealTest® provide early warning of dangerous CO buildup by using electrochemical sensing technology to measure CO levels in the air. Furthermore, if a dangerous amount of CO is detected, then the ADT Carbon Monoxide Detector Wired Round will also alert residents through sounding as well as flashing a Temp-4 signal alarm. Finally, protection is guaranteed 24/7 by a central station, regardless of whether residents are away from home, sleeping, or already suffering from the effects of CO.
In addition, The ADT Carbon Monoxide Detector Wired Round is around, 12/24 volt, 6-wire, a system-monitored carbon monoxide detector with RealTest (R) Technology, also ideal for ceiling installation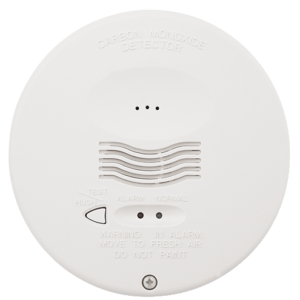 Specifications:
Alarm Contact Ratings: 0.5 A @ 30 VDC
Alarm Current: 40 mA (75 mA test)
Dimensions: Diameter: 6 in; Height of 1.3 in
Humidity Range: 22 to 90% RH
Location Indoor
Mounting Single-gang back box; surface mount to wall or ceiling
Operating Voltage: 12/24 VDC
Sounder: 85 dB in alarm
Standby Current: 20 mA
Temperature Range: 32° F to 104° F (0° C to 40° C)
Weight: 8.6 oz
Also compatible with spray CO tester to ensure safety and quality.