Description:
ADT 4G Cell Radio for Lynx Plus is an cellular alarm monitoring communicator for the alarm control panel. Prior to the release of the ADT 4G Cell Radio for Lynx Plus was the only cellular alarm communicator you could use with a LYNX Plus security system.
ADT 4G Cell Radio for Lynx Plus is the latest 4G cellular alarm communicator to be released. Ever since the ADT announcement to no longer support 2G. ADT quickly began replacing all of their existing 2G communicators with 4G versions. We recommend that anyone purchasing a cellular alarm communicator today choose a 4G version.  While ADT says that will be at the end of 2016, certain areas of the country will lose 2G service even before that time. By investing in a 4G cellular alarm communicator today, you can be confident that your alarm communications will be secure and reliable well into the future.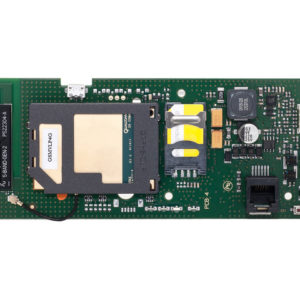 General:
Adding an ADT 4G Cell Radio for Lynx Plus allows you to sign up for cellular alarm monitoring service. While the LYNX Plus alarm control panel supports phone line alarm monitoring without needing an alternative alarm monitoring communicator, most people these days prefer cellular alarm monitoring. If you are relying on your home's phone service for monitoring service. Your security system is vulnerable to a criminal cutting your phone line before entering the home. With the phone line cut, no alarm signal would reach your central station. However, if your system has a cellular alarm communicator. There is no risk of someone cutting your line. As this cell radio for Lynx Plus uses a wireless alarm transmission path, it is a more reliable and secure form of alarm communication.
Additional Information:
Another advantage is that you don't need to have phone service at your home to have your security system monitored. With the huge popularity of cell phones, many people no longer have need for a traditional home phone. However, many people that would otherwise be able to eliminate their phone service, and save on their monthly phone bill. They are forced to keep the service because their alarm system uses the phone line. These people would be able to free themselves from their home phone by simply adding a cellular alarm communicator to their security system.
Please check out our YouTube Channel for more information.