01 Apr

Honeywell Releases First Combination Wireless Smoke and Carbon Monoxide Detector
Back in April 2017, Honeywell released the first wireless smoke and carbon monoxide detector ever, called the 5800Combo.
Read more to find out all about what this device can do to protect you and your family. Also, don't forget to check out the extra special announcement at the end of this blog!
5800Combo: Honeywell's Newest Arrival
Monitoring your house just got easier with a ground-breaking smoke and carbon monoxide detector.
According to Honeywell, "It contains a built-in transmitter that enables central-station alarm monitoring of dangerous smoke and CO gas, as well as maintenance supervision. The 5800COMBO also includes voice annunciation, visual alerts and temperature reporting clusters."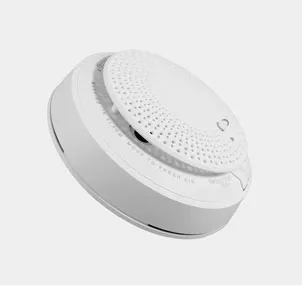 Incredible Benefits For "Smarter, Intuitive, Reliable Detection"
With this new home security technology that uses 4 sensing elements, the 5800Combo allows you to:
Act quickly and faster than ever to real danger, while also minimizing false alarms by utilizing sophisticated algorithms.
Combine 2 detectors in one, which saves you money and installation time.
Monitor your home with multi-lingual voice annunciation and feedback.
Clearly see alarm notifications with 360º viewable side LEDs (Red for Smoke, Blue for Carbon Monoxide)
The 5800Combo by Honeywell is compatible with Honeywell Vista and Lynx Panels and utilizes a photoelectric chamber to detect airborne smoke particulates and an electrochemical sensor to monitor carbon monoxide bi-product that comes from fire.
One notable benefit of the 5800Combo is the infrared flame sensing that is able to measure both ambient light levels and flame signatures, while also monitoring temperature with a thermal detection.
Get It Running With Ease
This device is extremely easy to install, especially since you're getting 2 detectors in 1.
The 5800Combo runs on 4 batteries (you can find them here) and can be mounted to your wall or ceiling. Its height is 2.03" and diameter is 5.95".
And guess what? I've saved the best news for last. It's on sale right now for a very limited time, which means you can get this high-tech detector for $21 off! Just click here to take advantage of this sale.
But don't wait! This offer won't last long, and with its highly anticipated release, these will be flying off the shelves.
Take your home security to the next level and save money at the same time.