ADT Batteries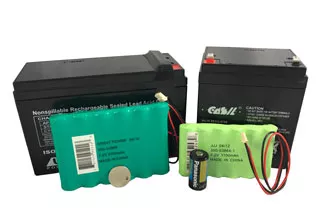 If you have an ADT Security System and you get a low battery notification on your keypad you will want to purchase a new battery and replace it yourself. It is super easy and we carry all the ADT Batteries you will need. If you do not see it here check out Battery Category in the shop or contact us.
If you see a low battery indication it is either the main back up battery or it is a wireless sensor battery. If it is a wireless sensor battery it will tell you a zone number along with the low battery message. (push ** if you are not seeing the message)
Panel Batteries
Device Batteries – If you panel says low battery and then a zone number.
| Device | Type of Battery |
| --- | --- |
| ADT Door Sensor | CR123A |
| ADT Window Sensor | CR123A |
| ADT Motion Detector | CR123A |
| ADT Smoke Detector | CR123A |
| ADT Carbon Monoxide Detector | CR123A |
| ADT Keyfob | CR2032 |
| New ADT Keyfob | CR2025 |