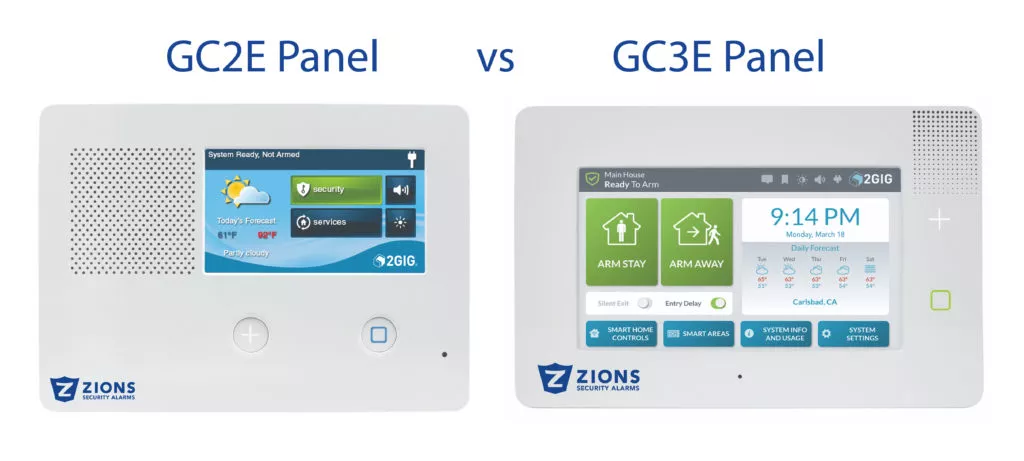 03 Jul

GC2E Panel vs GC3E Panel

2GIG has its fair share of great security products, including security panels. But what's the difference between GC2E Panel vs GC3E Panel? Well, that's what we're here to tell you.

Let's compare and contrast these two panels and help you decide which one is best for you. These panels work as replacements for the older GC2 and GC3 Panels.
GC2E panel
The 2GIG GC2E panel is great for most things you need in a panel. It has a color touch screen interface that allows you to access it from your computer and phone wherever you want.
Another good feature is the LTE radio. With this radio, you don't have to worry about cut phone lines or even residential phone lines in general. And with its integrated two-way voice, the panel allows the central station to talk to the homeowner when they receive the signal.
GC2E also has a built-in Z-Wave RF protocol, allowing you to control lighting, HVAC, and other Z-wave devices from the panel, phone, or internet.
With GC2E you've got a good solid panel that offers you many features dedicated to making your security experience simple and effective.
Features:
Color touchscreen display
5" Color Touchscreen Display
Encrypted Sensors
60 Wireless zones
2 Hardwire zones
64 User codes
Fully self-contained
Remotely control panel settings over cellular
Two-way voice over POTS or cellular
Easily updateable for new features
Built-in Z-Wave Plus home control
Weather information display (with cell radio)
DC power receptacle
Quick arm/exit
GC3E panel
You could consider the GC3E panel as a step up in panels as it offers a lot of impressive features. One of its greatest features is that it has 100 wireless zones, which is more than most homes and businesses will need.
Additionally, the GC3E panel is a self-contained partitioning panel, which means it doesn't have modules that require additional set up procedures. Combined with other features like at-a-glance programming and, this panel very easy and quick to install.
The panel also has over-the-air firmware updates and USB to allow you to update your panel either remotely or on site. With these features, no matter your preference, your panel will stay up to date with the latest features. It's the panel that's designed to change with the times.
Features:
7″ capacitive touchscreen – larger screen allows for larger buttons and controls; easier to see and use
Encrypted Sensors
One-touch arming – Arm button on home screen for one-touch arming
Capacitive-touch buttons – Home, Emergency
5-day weather forecast – get your workweek forecast in one glance
Firmware Updates
Over-the-air – convenience of updating panel remotely to add new features and capabilities to the GC3E system
USB – fast on-site updates to make sure the GC3E is up-to-date with the latest features
Create Rooms – Group Smart Home devices for easy control of multiple devices in one screen
Bookmark screen – create your own home screen for most common features
100 Wireless Zones – More than any other all-in-one panel
2 Wired Zones
8 Keypads
The first self-contained partitioning panel –no modules that require additional set up procedures
Device recognition
Third-hand strap – for those times when you need one more hand during installation
Integrated level – to get it straight
Easy-to-align center mark
At-a-glance programming – see zone programming configurations on one screen
Add up to 4 partitions or "Smart Areas" to your location
SMART AREA BENEFITS

Easy setup: control access for kids, renters, guests and service visitors
Simplified user interface: easy to find top commands and access 'smart area' partitions
Unique sounds: each smart area's sound helps pinpoint any alert or notification
Added peace of mind: with intuitive, easy to use 2GIG Smart Areas™
Which panel is better?
So which panel should you get after comparing the GC2E Panel vs GC3E Panel? It depends on your needs and your budget. Overall, the GC3E and GC2E have many of the same features, including easy installation, updateability, and built-in z-wave/z-wave plus automation. Where they differ the most is the wireless zones and capability of controlling multiple devices. The GC3E can handle 100 wireless zones, compared to GC2E's 60 zones.
GC3E does offer quite a few new features and it has impressive capabilities to handle 100 wireless zones, which is great for larger buildings. But it does cost more than the GC2E panel.
If you're on a budget and looking for a panel that won't need to handle more than 60 wireless zones, the GC2E panel would work just fine for you. But if you need something that can handle more zones and easily manage control of multiple devices, it may be worth it to invest the extra money for the GC3E panel.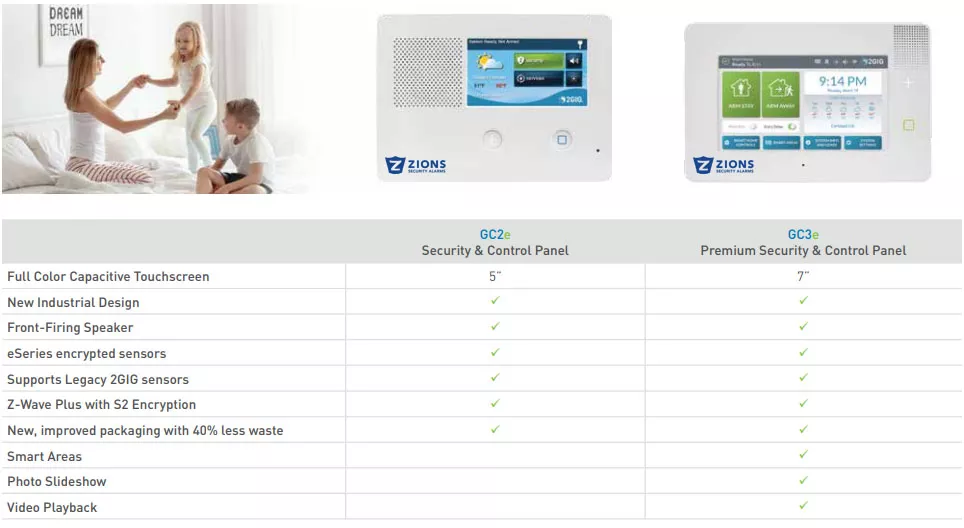 Need help in determining what kind of panel you need? Contact us, and we can help you out!