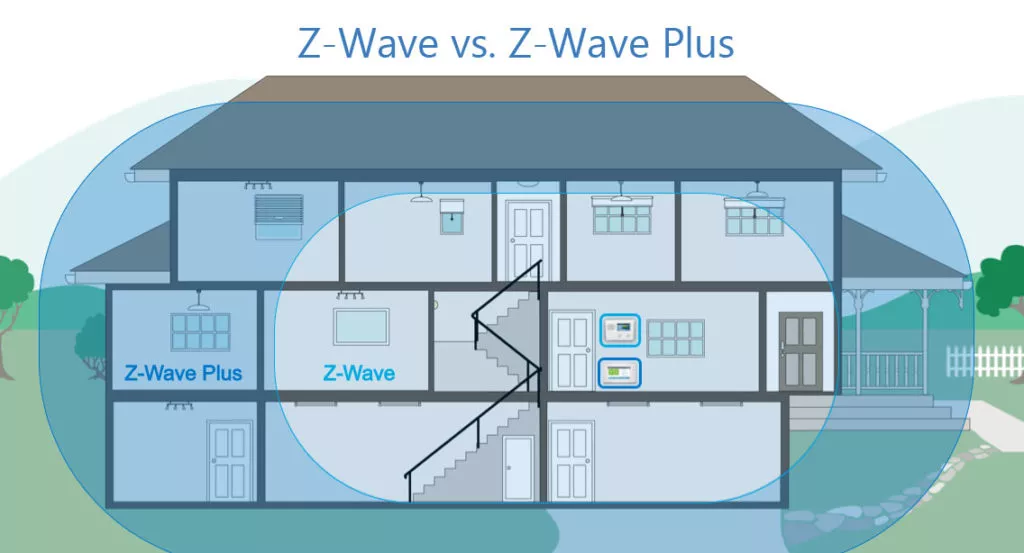 17 May

Z-Wave vs Z-Wave Plus: Making Your Security Smarter

Do you have devices that have Z-Wave? You may want to know that Z-Wave Plus is now available. But what's the difference between the two? That's what I'm here to talk about. So let's look at Z-Wave vs Z-Wave Plus!
What is Z-Wave Plus?
According to its website, "Z-Wave Plus™ is a new certification program that helps consumers identify products that take advantage of the recently introduced 'Next Gen' Z-Wave hardware platform, also known as 500 Series or 5th Generation Z-Wave. Z-Wave Plus certified solutions feature a selected set of extended features and capabilities that enhance the end user experience and make Z-Wave installations even faster and easier to install and set up."
How is Z-Wave Plus better?
Here are some of the features of the new Z-Wave Plus vs the Z-Wave:
50% improvement in battery life
67% improvement in range(Z-wave Plus devices now have a range of 50-70 ft compared to its predecessor's range of 25-30 ft.)
250% more bandwidth
Three RF channels for improved noise immunity and higher bandwidth
New Plug-n-Play Network-wide Inclusion feature
Improved self-healing and fault tolerance with Explorer Frame feature
Standardized method for Over the Air firmware updates (OTA)
Improved product information capture for product certification database
But Z-Wave Plus and Z-Wave both have a few elements that affect their effectiveness:
Absorption (certain materials will absorb an amount of the z-wave frequency)
Jamming (900Mhz devices intercom, baby monitors, cordless phones)
Reflection (microwaves, windows, TVs, mirrors)
Those things could vastly shorten the distance and reliability of your home automation network with Z-Wave.
What panels have Z-Wave Plus?
Most of the newer panels have Z-Wave Plus, like the ADT Command and the Qolsys IQ Panel 2 Plus. Unfortunately, the older models and ADT Pulse gateways don't have it.
But all Z-Wave Plus devices are backwards compatible with Z-Wave devices. So if you don't want to replace all of your Z-Wave devices, you can still integrate them into new Z-Wave Plus panels.
The Qolsys IQ Panel 2 plus even has diagnostics on the keypad to help determine the strength of the Z-Wave Plus network. (See image)
Does Z-Wave Plus cost more?
While there is a small difference in prices with Z-Wave Plus compared to Z-Wave, it has more to do with additional features. Ultimately, you're getting a lot more for the small increase in price of products.
How Zions Security can help
Zions Security offers many devices that are Z-Wave enabled. If you need help getting devices with Z-Wave Plus, talk to us! They can all be found in the shop.