The 2GIG GC3 Control Panel was 2GIGs first 7″ touchscreen system with Wi-Fi. It has since come out with a GC3E and then replaced that with the 2GIG Edge. It has a 7" color, capacitive touch screen, and a full upgrade to the user interface. In addition, these improvements include single-screen zone programming, elimination of unnecessary or redundant steps, One-Touch Arming, and easy-to-see Status. If you are looking for a replacement power plug/transformer click here.
This panel is also the first Z-Wave Plus certified panel and makes working with smart home devices simple. So programming new smart home devices is easy with clear, step-by-step menus, saving time and money.
Additionally, the security and automation chips have been built with a modular design, allowing for the incorporation of other emerging solutions to stay current in the ever-changing world of technology.
But if this isn't quite what you're looking for, take a look at our other panels.
2GIG GC3 Control Panel Features:
7″ capacitive touchscreen – larger screen allows for larger buttons and also controls; easier to see and use
Resolution: 800 x 480 pixels
One-touch arming – Arm button on the home screen for one-touch arming
Capacitive-touch buttons – Home, Emergency
Dimensions:  8.9″ x 5.25″ x 1.25″ – thinnest 7″ all-in-one system on the market
5-day weather forecast – get your workweek forecast in one glance
Firmware Updates
Over-the-air – the convenience of updating panel remotely to add new features and capabilities to the GC3 system
USB – fast on-site updates to make sure the GC3 is up-to-date with the latest features
Security Features:
100 Wireless Zones – 40% more zones than GC2 to add more protection to a residence; no all-in-one panel has more wireless zones
2 Wired Zones
32 Keyfobs – 8x more keyfobs than GC2
4 Keypads
2 Open Collector Outputs
Wired Bell Output – connect the external siren
100 Users
More zones than Lynx Touch or Vivint SkyControl
Give users a name, not just a number
Assign individual schedules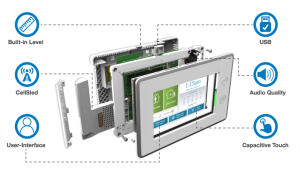 Communication:
User-replaceable cell radio with integrated antenna
Snap-in radio can be installed without opening the panel; requires no tools to install
3G – AT&T or Rogers Network
CDMA – Verizon Network
Automation:
Integrated Z-Wave radio – no extra costs to enable the most popular home automation technology on the market
Supports up to 232 Z-Wave devices
Lighting controls, light bulbs, door locks, and also thermostats
Create and execute scenes – define what Z-Wave devices should do when the scene button is pressed
Create Rooms – Group Smart Home devices for easy control of multiple devices on one screen
Bookmark screen – create your own home screen for the most common features
Installation:
Third-hand strap – for those times when you need one more hand during installation
Integrated level – to get it straight
Easy-to-align center mark
At-a-glance programming – see zone programming configurations on one screen
Power:
100-240VAC 50/60Hz 1.7A 14VDC adapter
Lithium-Polymer backup battery
Operating Temperature: 0C to 40C
2GIG GC3 Control Panel Certifications:
UL985, UL1023, UL1635
ULC C1023, ULC S545-02 (Canada)
ANSI/SIA CP-01 2010
CSFM listed