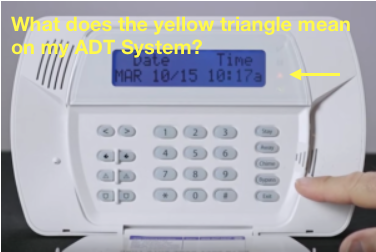 04 Aug

What does the yellow triangle mean on my ADT DSC Impassa Alarm system

Do you own an ADT DSC Impassa alarm system, and have you noticed a yellow triangle symbol on your DSC ADT Alarm system? Is your system beeping twice every 10 seconds?

You may be wondering what it exactly means. No worries, we have the answers! 

Let's quickly discuss what the appearance of this yellow shape means and what you need to do.
What It Means & How to Fix It-
Let's get straight to it!
A yellow triangle on your DSC ADT Alarm system is also known as a "trouble light." That means if you see this symbol, your system has an issue that you need to resolve. 
A trouble light could mean 1 of 8 problems. To find out what the problem is, you can simply press *2 on your keypad. After pressing this on the keypad, your zone lights should light up, communicating any trouble areas. Pushing # will silence the trouble sound. Then here's a quick look at what your yellow triangle could be telling you:
AC Power Loss – You've lost power. You'll know this because the keypad will not make a beeping sound, but it will be lit up. Check the outlet where you plugged in your system. 
Low Battery – One of your zones is currently running on a low battery. (If you're looking for replacement battery, search no further. Go ahead and click here.)
Phone Connection – There could be a problem with the telephone line.
Communication Fault – The panel and central station aren't communicating properly. (Call and perform a test at 1-800-238-2727.)
Zone is open – There is an issue with a zone. You can press 5 on the keypad to see which zone is currently experiencing an issue.
Zone Tamper – One of your zones has been meddled with. You can press 6 on the keypad to figure out which zones you need to address.
Time and Date – Your system clock is messed up. Just update to the correct time and date. 

You might need to call ADT Customer Service to resolve the issue. 1-800-238-2727
As you can see, you'll be able to fix a majority of these problems without help, but if you need ADT Customer Service, call them at 1-800-238-2727. If they didn't answer your question, or you need extra help, feel free to give us a call here: 1-800-871-2119.
As an Authorized ADT Dealer, we're 100% dedicated to making protecting your home and loved ones easier than ever.
For More Information on the ADT DSC Impassa Alarm System-
The ADT DSC Impassa alarm system is super popular, and it's a great option for protecting your home or business.
Additionally, if you happen to have any other questions about it, we actually answered the top 15 questions about the ADT DSC Impassa system. 
You can also view the user manual for any other information you may be needing to make sure you're utilizing all the benefits on your ADT DSC Impassa system.
Want to add more wireless devices to your ADT DSC Impassa Alarm system? We have a variety of DSC Products available in our store such as Sirens, Smoke/CO Detectors, Keyfobs, Door/Window Sensors, Motion Detectors,  and even if your looking for another keypad. It is also common to break the door on the keypad, however we have these available here as well! Check out more options and prices here. We can even help you add them yourself.
Also, if you happen to have a question we haven't answered yet about the ADT DSC Impassa system, go ahead and leave a comment below, and we'll get to it as soon as possible!